Software Release 72 features great automation enhancements that streamline employee productivity and communication. Follow along as Emily, the General manager at a department store, and her team use OnePoint to navigate through the holiday season! Take away ideas to use these enhancements to streamline workforce administration using new automation tools and self-service features. Improve employee productivity and streamline administrative tasks for recruiting, onboarding, scheduling and time keeping in your organization.
Talent Acquisition - Onboarding Productivity Tools
With extended holiday hours comes the need for additional holiday staff. Emily needs to quickly grow her team. Her store specifically has several types of positions open: a few cashier openings, two front-end manager openings, and several stockroom positions.
Create and maintain offer letter templates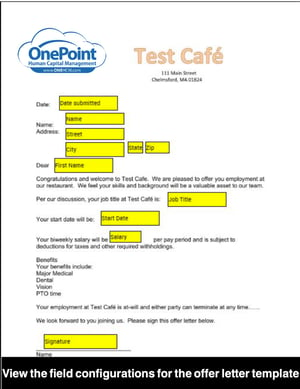 With our custom templates enhancements, Emily can create a standard offer letter for each job that she can reuse for each hire. Offer letter templates are saved as PDFs, and she can quickly switch out the needed information, saving her a bunch of time as she dives into the holiday season.
E-signatures for onboarding forms
Even if the onboarding process is automated with checklists and templates, signing forms can be a tedious process for new hires. OnePoint HCM new e-Signatures speed up the job acceptance and forms completion process. Emily can extend job offers to seasonal workers and give them an electronic option to fill out and wet sign the required forms though self-service and even mobile.
Where it is: HR Module
Who will use it: HR/Talent/Recruiting
Scheduler Communication Enhancements
Mass-update shifts
The holiday season traditionally means that the retail industry offers extended holiday hours. Emily, the general manager of a department store, and forgot that extended hours start next week and that they'll be open until 11 p.m. Now she needs to quickly make several schedule updates for at least eight of her employees per night. Lucky for her, with the Mass-update shifts enhancement, she can make all those shift changes at once, saving her plenty of time. Constraints are also automatically checked after those changes are applied, and Emily will be alerted if an employee will hit overtime with these changes.
Where it is: TLM Module
Who will use it: Managers
Shift Swap via SMS 2-way Texting Capability
Release 72 includes an enhancement of one of our new favorite features: SMS 2way communication. Quinton works on Emily's team at the department store and he can use SMS 2-way to receive and respond to scheduling requests through SMS.
This is extremely important employee productivity tool during the holiday season. With extended hours, time off, temporary staff, employees need easy to request coverage and swap shifts. Some people may want to pick up extra shifts to make a little extra cash. Regardless of the reason, SMS 2-way for scheduler purposes allows Quinton and Emily to see and approve shifts swaps that the employees orgainized.
*In order to send communications via SMS, organizations must be using our marketplace vendor Twilio.
Where it is: across products
Who will use it: managers and employees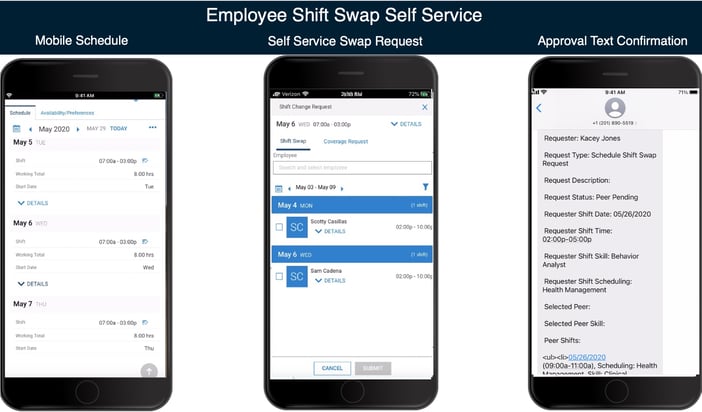 Timekeeping - Employee Productivity Tools
OneTouch Clock Cost Center Enhancement
Connor is one of Emily's top employees. He is always willing to step up and cover a shift, no matter the department. During the holiday season, it's not uncommon for him to work back-to-back shifts. For example, he might start his day in the shoe department, but his second shift he transfers over to the children's department to help out. Since the shoe department is on the first floor and the kids' department is on the third, Connor would normally have to run up to the third floor and clock in there. Using the new OneTouch clock cost center enhancement, he can now clock in from anywhere in the building simply by selecting which cost center he's reporting to — in this case the children's department — and clocking in.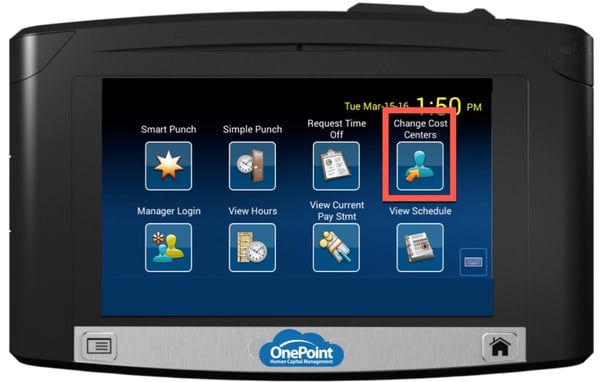 Where it is: TLM
Who will use it: Employees
The OnePoint HCM platform is an all-in-one HCM system that unifies employee data, increases productivity, and boosts engagement, while automating reporting and workforce management processes. HCM automation enhancements give our clients the opportunity to reduce time spent on HR processes, avoid mistakes caused by human error, and improve decision making across the organization.