The goal for great onboarding processes—to transition the people you've invested in hiring into productive employees—hasn't changed but the playing field has. Companies that don't focus on building the bridge between the candidate experience and the employee experience are missing a golden opportunity to get candidates engaged before they walk in the door. But what if your onboarding processes are no longer that "warm and fuzzy" first day in the office?
How are industry-leading companies delivering exceptional remote employee onboarding experiences? We look at four ways OnePoint HCM can support a great remote employee onboarding process.
Keep the onboarding process simple and easy
Redundancy and delays are a red flag for new hires. One benefit of an HCM solution is the speed and accuracy of the data transfer from ATS to the HRIS.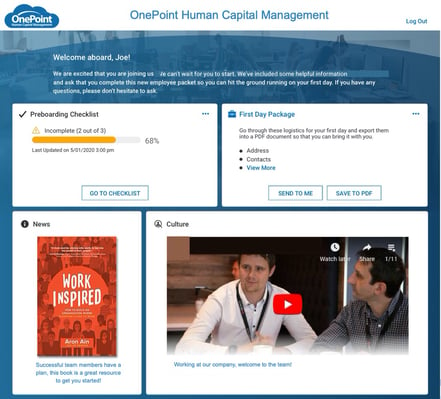 The automatic transfer of information get your new hires process more quickly, without having to go back to them for missing information. Use templates to automate the welcome email with the links to login to the employee pre-boarding or Onboarding portal.
On the first login:
Show your new hire a "Welcome Pop Up"
Use graphics or multimedia to personalize the experience
Add a video from the manager or the new team
Link them to their home screen which is customized as pre-boarding or onboarding experience.
Use the onboarding checklist and workflows to guide them through the steps.
HCM automation dramatically speeds up communication, demonstrating efficiency and preparation to the new hire. Research has shown that employees who experience an exceptional onboarding experience have lower turnover rates, are more productive. Fast communication not only keeps remote employees engaged and excited, but it also pre-empts potential change of heart or accepting a counter offer.
Automate the boring stuff
Provide an easy way for new hires and their managers to track the onboarding process so they can complete the tasks assigned to them in a way that's visible and manageable. Give your remote new hires the ability to complete forms digitally and use new features like "e-sign" and biometric signatures to minimize the paperwork and stuff that needs to be printed.
Because the HCM has all the new hire data in it, your new hires can login prior to their first official day. Onboarding checklists show step by step for paperwork, direct deposit set up, benefits enrollment, handbook review, see training assigned in the LMS, and more. This is all tracked in the HCM platform giving new hires easy access to what they need to get done in order to be successful.
Demonstrate culture
This part is the most challenging for remote employees. Traditionally good onboarding procedures might include a meet and greet with senior managers, welcome packages, maybe a team gathering or social hour.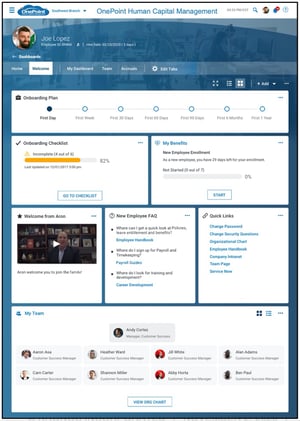 But in-person cant happen with a remote hire. So HR teams have to get creative and use HCM to create a remote employee onboarding welcome process.
HR teams will need to put on their marketing hats. Think about what the new hire experience can be, and then how to use HCM automation to streamline communications with remote new hires). Here are some ideas to that can pretty easily be created to showcase culture and welcome new employees:
Work with the CEO/president/senior leadership on a welcome letter or video
Invest in content for your social media and LinkedIn, that demonstrates culture
Include links to social media and invite the new hire to follow the company
Have the manager or team create a welcome video (cell phone footage is great and even more authentic)
Curate interesting company accolades or press (i.e. awards, recognitions, achievements) and link them in the quick links section.
Create a welcome package and have it ready to ship out with any company equipment (laptop/phone/printer) that you will be sending

Do you have company literature or has a someone published a book or given an presentation? Send the new hire a copy
Does the person's manager use a particular training program or interesting professional development book they use to inspire their team? Make sure the new hire get one.
Gifts are always nice, do you have company branded swag, clothing, coffee mugs, backpacks, etc to send?
Now you have some ideas, OnePoint onboarding portal can organize letters, graphics, videos, links, organization charts, etc. and display them in one place as the total onboarding experience.
Pro Tip: User Provisioning - automatically create user accounts
In most organizations, employees access a number of business system to do their jobs. Part of exceptional onboarding is making sure new employee accounts are ready to go on the first day. However communicating with IT or system administrators can be slow and frustrating. And now the IT team is probably working remote too, adding further uncertainty.
OnePoint User Provisioning leverages unique API capabilities to automate user account creation for most cloud business applications. When you hire an employee, the system pushes an action to create user accounts on cloud business platforms, software-as-a-service (SaaS) applications and on-premises internet-accessible systems.
Using OnePoint HCM as your employee System of Record (SOR) user provisioning eliminates back and forth with IT, reduces administrative burdens for managers and your new hires get up and running faster.
Technology cannot replace the one-on-one interactions that elevate the onboarding experience. But it is connection that matter and getting your new hires up to and running as fast as possible. With the upward trend in remote working organizations will need tools to evolve their onboarding communication and engagement with tools that personalize the remote employee onboarding experience.