2020 forced most companies to rethink how they operate. But for most companies their HR systems weren't able to keep pace with rapid changes. Therefore senior management is missing the right workforce analytics reports to keep track of labor costs, productivity and compliance
Considering that labor continues to be the largest percentage of variable costs across all sectors, Leaders realize the need for real-time workforce analytics reports to have the right metrics and insights to make decisions.
There are numerous ways to measure productivity. But in every industry there are metrics that are both essential and universal. The ability to see trends and make meaningful decisions is easier said than done if your data is siloed in many places.
HCM solutions like OnePoint operate on a unified database which opens the opportunity for hundreds of standard workforce analytics reports. Your managers can arm themselves with a dynamic time and labor dashboards customized to monitor key performance metrics they care about in real-time.
Let's look at four core workforce analytics reports used to improve productivity and increase efficiency.
1. Overtime hours
The metric explained:
Capacity and staffing misalignment can drive up labor costs. For example, short term capacity shortages might trigger a sudden scale-ups in new hires to fill the gaps. But strategic workforce analytics might have shown that use of overtime might have been more cost effective in the long run, rather than the cost and effort to recruit and hire a new employee. Most organizations tend to focus on overtime reduction, when in fact, overtime may be the better option. But without the data to see trends it is difficult to make that business decision based on key metrics.
Reporting to the rescue:
This is an important when determining the best use of overtime based on operations, workload, and finances. Evaluating overtime using OnePoint workforce analytics reports like Approaching Overtime can facilitate quicker insight into overtime, and the opportunity for proactive management may lead to any adjustments needed.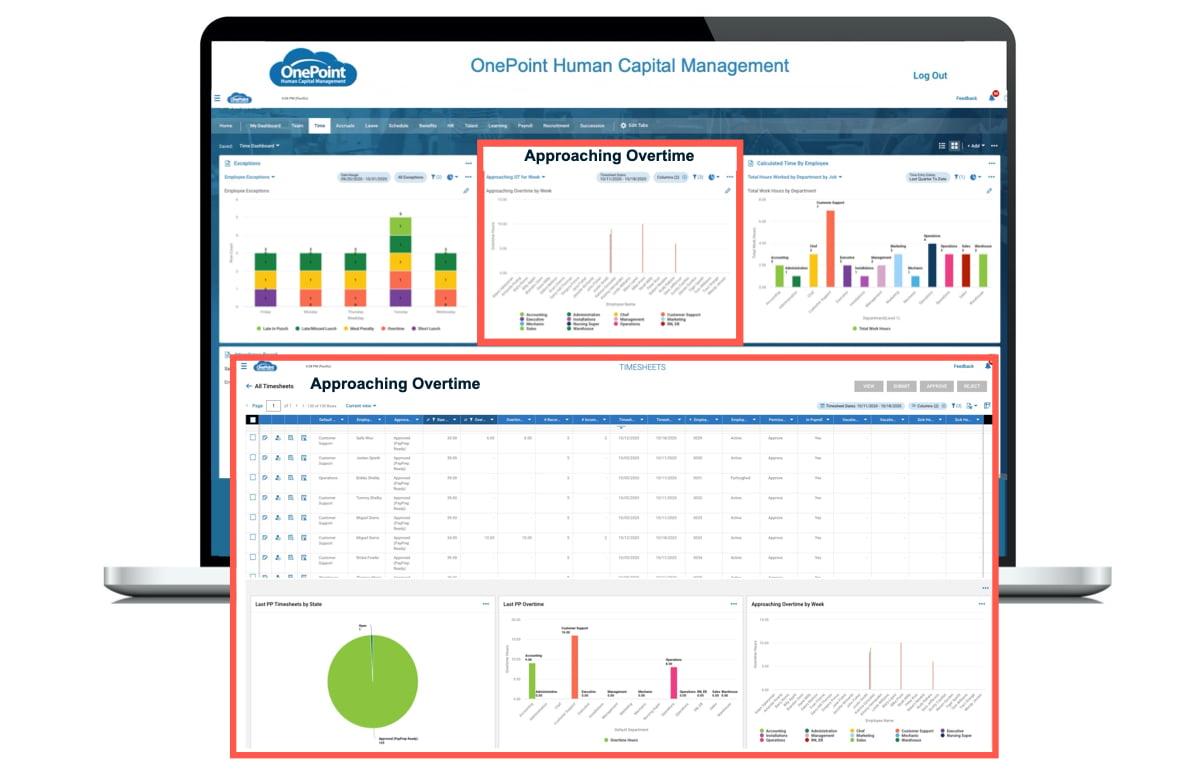 This type of core report lets you dive into the root cause of the overtime events. Use drill-downs to filter for different periods of time. Managers can gain insights on which overtime occurrences were warranted and which were due to time mismanagement or even scheduling issues.
The most important aspect is to be able to monitor any excessive overtime which can affect profitability and signaling an overworked team. This gives leadership the ability to make staffing decisions based on key capacity, time and payroll metrics.
2. Absenteeism
The metric explained:
For any business, absenteeism can create a significant impact on productivity and carries hidden costs for every organization. Studies show unplanned absences decrease productivity. Routine absences can drive down employee morale and affect team performance. Consistently monitoring this workforce metric is critical to identify the root cause and to develop a plan of action for the employees in question. The goal is to prevent uncertainty and stress caused by scrambling to fill coverage gaps. And is particularly important to know what overtime metrics are being affected by excessive absenteeism.
Reporting to the rescue:
Run an Unplanned Absenteeism report and compare to an Overtime Cost report over the same time period. This provides powerful workforce analytics that monitors absences and then quantifies the impact against another critical labor cost metric. Identifying and addressing patterns of absenteeism help managers highlight trends in absenteeism and enforce their attendance policies. By consistently monitoring this metric, organizations can gain insights on absenteeism to reduce negative effects, see the impact on labor costs, and activate plans to address specific employee performance.
3. Scheduling effectiveness
The metric explained:
Evaluating deviations from planned work schedules is another way to use workforce analytics to improve cost controls. Effective scheduling is critical to any organization, but misaligned scheduling over time can lead to unfavorable outcomes in terms of productivity. The best approach is to analyze and compare both actual and scheduled hours over a period of time. Then managers can use metrics to gain insights to the difference between scheduling by demand and scheduling based on need.
Reporting to the rescue:
Actual vs. Worked Scheduled Hours report gives the ability to drill into detail regarding the work hours scheduled versus the hours that were actually worked by the employee and/or department. Workforce analytics reports allow managers to identify root causes, such as inconsistent usage of schedules across the organization. Seeing trends that may signal consistencies in actual hours exceeding scheduled hours for a department or employee can lead to more efficient scheduling processes.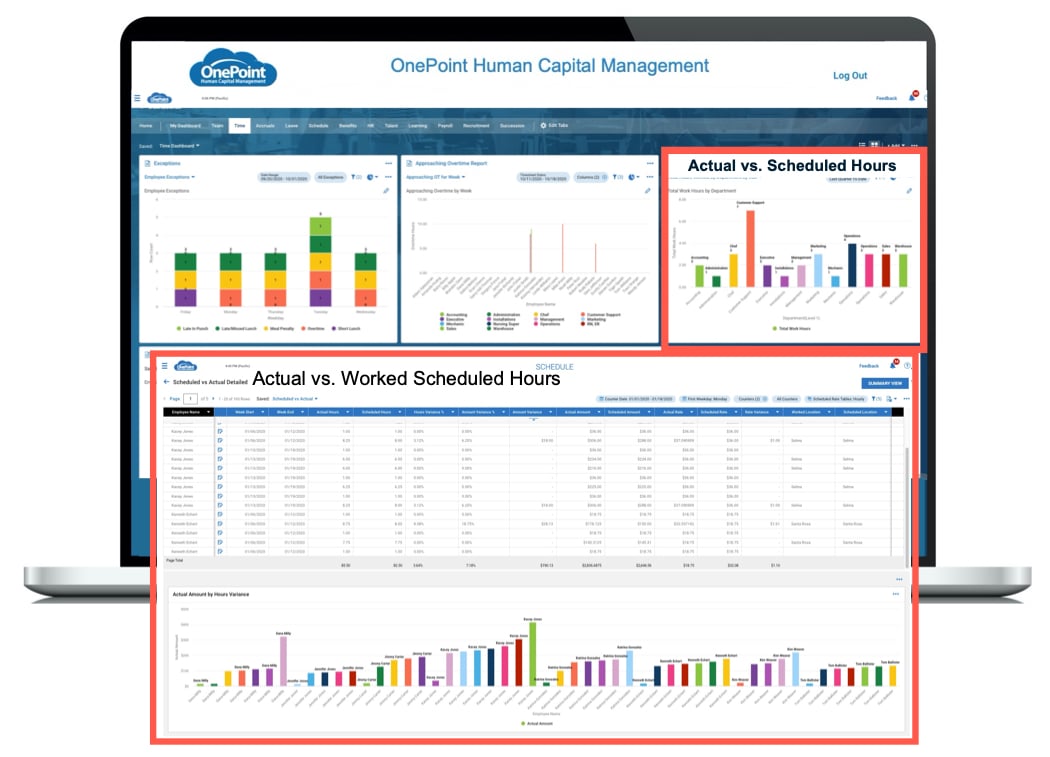 4. Exceptions
Punch exceptions is hot topic for most organizations looking for ways to reduce incidental labor costs and increase efficiency. The cost of missed punches, early ins, late outs, and missed meal breaks can add up especially for large organizations. Think about A few minutes here and there every day for 200 people can add thousands of dollars in unplanned labor costs not to mention increasing the risk for wage and hour violations.
Reporting to the rescue:
The use of core analytics to monitor exceptions is one of the most effective approaches for our customers. The Punch Exceptions report as the best way to effectively monitor exceptions across departments and by the employee. This report not only identifies the employees and departments that have the highest number of punch exceptions but also the type of exceptions, such as early ins and outs or even meal deduction cancellations.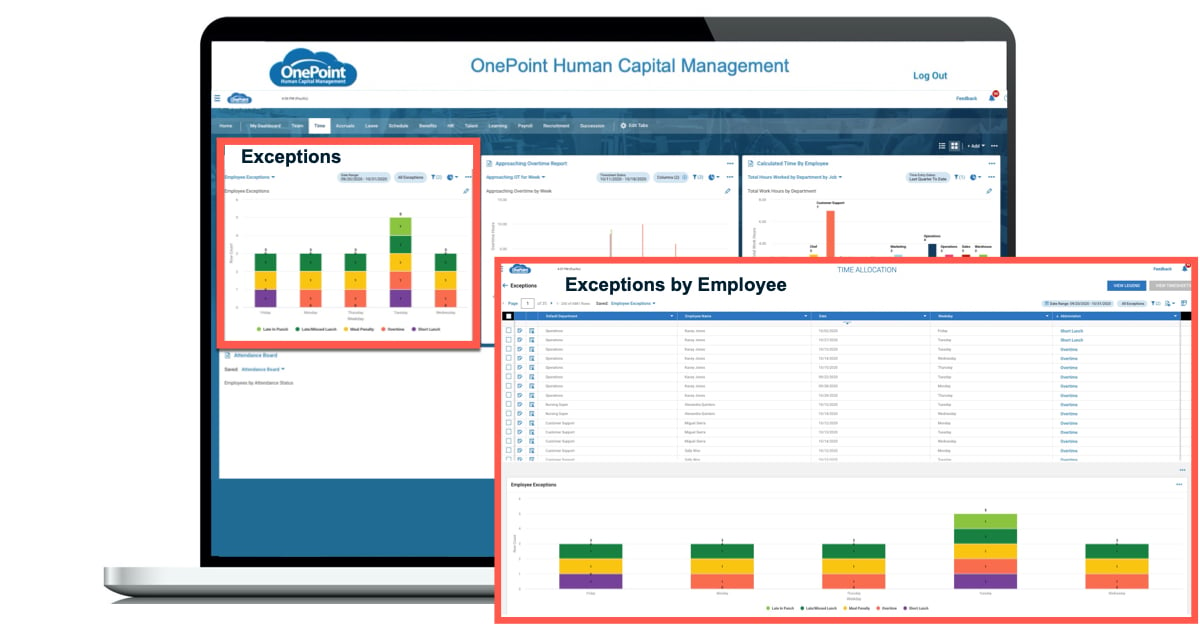 This is particularly helpful when coupled with managerial comments regarding the reason for the exception, [which] can be appended by the timecard editor for the event. This type of reporting offers yet another effective method of tracking or auditing for leaders in any organization to determine the appropriate course of action. The use of these reports creates awareness and insights for leadership. Timeliness to correct exceptions is essential to reducing inaccuracies and potential exposure to wage and hour violations.
Core Analytics for the Win!
For all industries, labor costs will continue to be the largest cost driver, and they warrant ongoing analysis from both operational and financial perspectives. Organizations need timely and reliable HR metrics to make critical organizational decisions that drive labor costs down while increasing productivity.
The best way to improve labor productivity is to identify and reduce barriers to productivity. Workforce analytics open opportunities to strategically allocate staff in a way that meets demand while enhancing the quality of service delivery. Real-time data and workforce analytics reports provide immeasurable value for leadership to optimize operations and drive profitability.