Unified HCM solutions turn workforce data into strategic action
The rise of C-level HR roles such as chief human resources officer (CHRO) in recent years illustrates the importance workforce data plays in aligning your employees with the financial goals of the organization. Employees have been referred to as an organization's "most-costly asset", which underscores the elevated role HR executives can play in harnessing the increasing amount of human capital data and transform it into meaningful HR metrics that align to business goals and ultimately financial success.
It's important to focus on the the HR metrics that really matter to your business and lead to actionable insights that support company goals. Tracking too many metrics can be overwhelming and counterproductive.
Determining which metrics to measure and report will depend on an organization's strategy and goals, but there are some universally accepted HR metrics that highlight important workforce trends. Harnessing HCM solutions like OnePoint gives HR departments and senior management a powerful tool to generate the most powerful and meaningful HR metrics and workforce trends in real-time.
Some of the critical HR metrics our clients can access on demand are:
Employee turnover:
Tracking turnover not only helps an organization budget more accurately for replacement and training costs, but it alerts HR and operations to potential problems, such as noncompetitive salaries or low employee engagement. With the right HR metrics HR can direct their attention toward the issue and drive down turnover rates and costs.
OnePoint HCM Standard HR Metric: Turnover Rates Report

Employees approaching OT Overtime:
Reliance on overtime can quickly send labor costs spiraling out of control. Tracking overtime can help managers identify patterns, understand relationships to demand. But the advanced ability to configure alerts for managers when an employee is approaching overtime allows managers to proactively adjust schedules to manage employee overtime for those circumstances that support the business and budget.
OnePoint HCM Standard HR Metric: Calculated Time Summary and Exceptions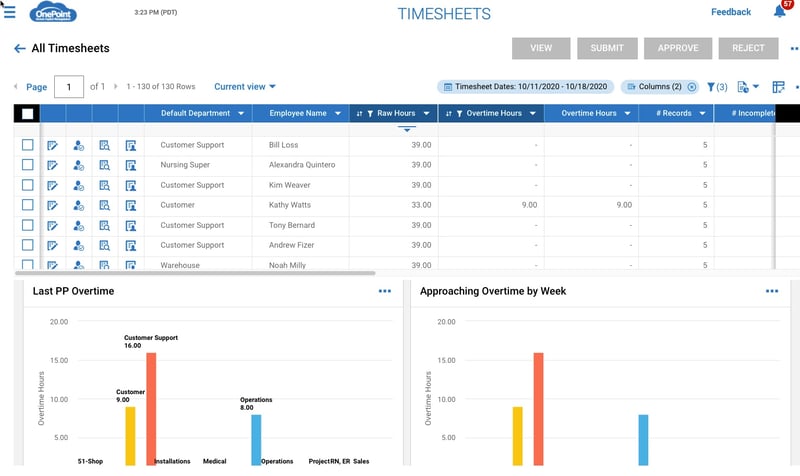 Employee mix:
Tracking the number of part-time, full-time, temporary, and contract workers — and how that correlates to supply and demand — helps organizations maintain an optimal employee mix that balances service and cost.
OnePoint HCM Standard HR Metric: Pay Grade Report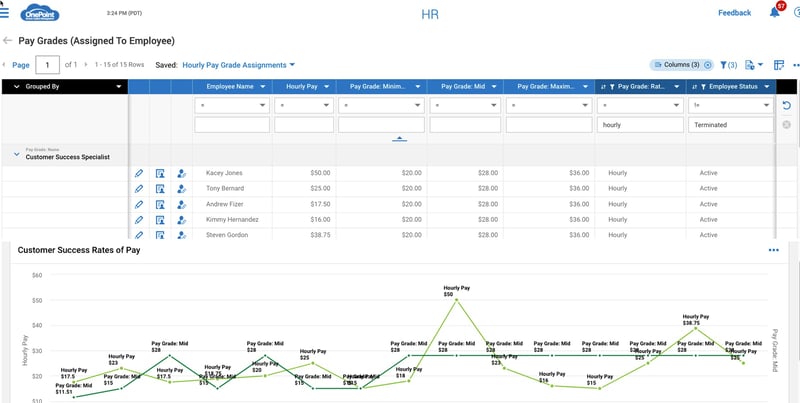 Unplanned absences:
Tracking employee time off provides insight to help control the costs of unplanned absenteeism including overtime pay and temporary replacement labor. The more accurately time off is monitored and managed, the better organizations can plan and budget for unplanned absences.
OnePoint HCM Standard HR Metric: Late/Early/Absent Report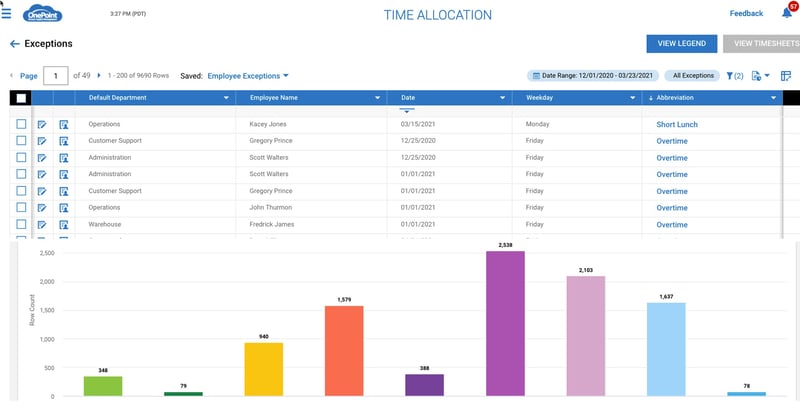 Employee Training, Certification and Compliance:
Because cross-training is fundamental for building functional flexibility into the workforce, it's important to track employee skills and certifications. OnePoint integrated Learning Management System and ability to automate tracking from other systems is a huge time saver and gives visibility on employee training and compliance objectives. These metrics make it easier for managers to fill open shifts or replace absent workers with qualified employees to meet service level agreements and minimize compliance risk.
OnePoint HCM Standard HR Metric: Training and Certifications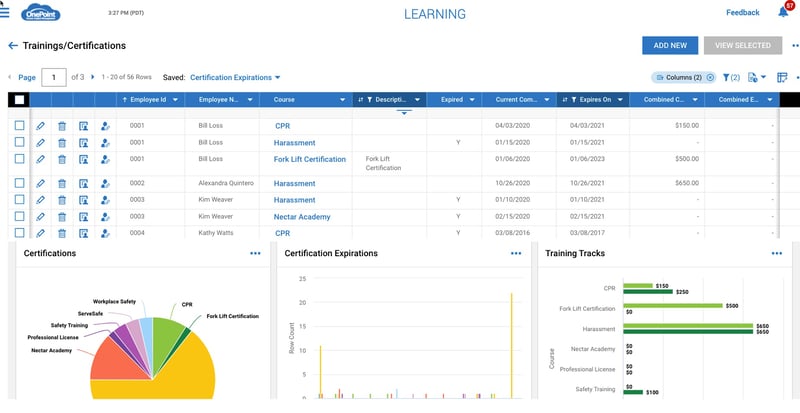 HR Metrics Power Decision Making
Unified workforce management technology offered by OnePoint captures the pertinent data, including labor hours and costs, absences, leave, schedules, skills, certifications, and more, in one database. This streamlines reporting and analysis needed to calculate and track HR metrics most critical to their business. Access to centralized employee data provides a wealth of powerful insights HR and senior management make informed decision that keeping the workforce aligned to meet — or exceed — performance standards and achieve corporate goals.