Employee Coaching Can Boost Engagement & Productivity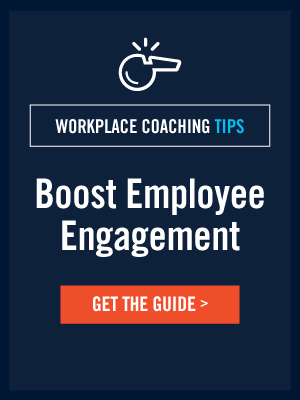 Increasing the number of engaged employees can have a significant impact on productivity, service, and morale in any organization. Employees that have defined goals that are specific, measurable and attainable are more likely to perform at a higher level, but also important is access to right support from managers and peers. However, management coaching is often overlooked.
The ongoing conversation between managers and employees is imperative because it:
- Clarifies expectations of performance
- Addresses discrepancies between the expected and actual performance
- Increases the opportunities for success with employees
- Strengthens the relationship between the employee and the supervisor.
A recent study shows at least 64% of employees said they want a check-in every two weeks with their immediate managers. However, the Millennials want feedback every week. As we have noted in our white paper, "Employee Engagement: Against All Odds," by 2025, Millennials will account for 75% of the global workforce. Now is the time for organizations focus on management styles that will support employee's desire for greater interaction.
Adopting a coaching style of management is one way to create greater employee engagement and commitment, improve performance, and accelerate talent development. When employees are coached, they feel supported and encouraged by their manager and the company. Retention can improve as employees are more loyal and motivated when their bosses take time to help them improve their skills.
Therefore grooming future managers with training on the skill of coaching can have a dramatic impact on business performance well into the future.
Coaching is Feedback and Validation:
Informal feedback through ongoing coaching creates work environments where employees are willing and able to ask questions. Safe and open work environments allow a free-flowing dialogue about performance in which mistakes are transformed into learning opportunities.
A coaching meeting helps to align the employee with the visions of the department and supervisor, which can gain employee buy-in.
Coaching can involve a variety of processes, such as:
- Providing on-the-job training
- Seeking external training opportunities for an employee
- Encouraging shadowing of more experienced team members
Coaching may occur during evaluation of a finished project:
- Analyzing results and processes
- Dissecting where performance was acceptable and areas that could be improved
- Discussing what was learned during the project and what can be improved going forward.
Training Managers on how to properly coach also includes training on the importance of progressive discipline and how to properly deliver it. Often, coaching sessions turn into discussions of the employee's performance improvement needs or behavior changes that might be necessary in order for improved performance on future projects/tasks. Collaborating on performance issues while attempting to understand the reason for the issues is important in order to come up with an improvement plan. Brainstorming with the employee on improvement and resolutions will more likely result in a positive coaching moment with higher commitment from the employee to implement the plan.
HCM Solutions Provide Performance Tracking and Visibility
Employers also need to consider what technology and solutions are available to support and document employee and manager interactions. Coaching is intended to provide better development roadmaps but without documenting achievements and areas of improvement, these sessions can lose their impact.
HCM solutions like OnePoint HCM provide the tools to facilitate and document these processes in one unified system, so performance reviews and performance tracking are less tedious and time consuming. Newly added features for Performance Development enables manager to create and assign both company goals and personal goals to individuals. Managers can assign dates and/or specific time frames for goal completion and self service allow the employee to update a goal with milestones to update the percentage that has been completed.
Additionally, workflows for ongoing performance ensure that performance is documented and company policies are enforced fairly and consistently to foster a positive, engaged work environment. Goals are weighted and scored to trigger bonuses and merit increases seamlessly into payroll. Likewise, incidents area can be configured to monitor and complete disciplinary actions, such as verbal, written and final written warnings right through the system. Contact OnePoint for more information about our performance management capabilities within our and Human Resources solution.