HR Q&A: What can employers expect now that
California Emergency Paid Sick Leave Act Ends?
California is one of the first states that mandated employers provide at least 3 days of sick leave each year to their employees. But with the COVID-19 pandemic, social distancing restrictions and quarantine requirements, 3 days became NOT enough to cover it. As a result, Governor Gavin Newsom signed a new law on March 2021, called SB 95, which made it compulsory for companies with more than 25 employees to offer up to 80 hours of COVID sick leave.
SB 95 went into effect on March 29, 2021 (retroactive to January 1, 2021), but recently expired on September 30th.
With the law sunsetting, a tug of war has ensued between the business lobby and worker advocates. The people on the business end want this to happen as many aren't able to afford the leave without a federal tax credit, while worker advocates are complaining that it is too early to let the extra hours of sick leave expire. Meanwhile, Governor Newsom's office has indicated no plans to extend the law or otherwise mandate CA SPSL. All this has resulted in a confusing situation for workers and employers alike.
What can you expect in the future?
Even though the state of California has reported the lowest COVID-19 cases in the country, the expiration of SPSL while the pandemic and the latest Delta strain rage on leaves a lot of questions. Foremost, there are still a lot of confusing obligations for an employer. For instance, employees that contract COVID or whose family members contract the illness would require sick leave time. Based on the reasons for sick leave, employees can be eligible for paid sick leave under the Healthy Workplaces, Healthy Families Act. Employees can also turn to company-provided sick leaves, vacations, or other possible opportunities to fill this gap.
Some employees may also be eligible for workers' compensation benefits which were made in accordance with any work-related COVID cases. So, for employers the end of SPSL doesn't mean they can't provide their staff with the necessary sick leave time to combat the illness. However, employers should also check their state and federal law before implementing any voluntarily sick leave plan.
Does SPSL stop on September 30, 2021?
Any leaves that were taken leading up to or on the date of September 30, 2021 would still be considered valid, and the employees would get the full amount of leave. However, all SPSL leaves that start from October 1st on would no longer need to be granted by the employer. We also encourage employers to stop the use of ARPA Paid Sick Leave codes for any of your employees after this date, or you risk incurring penalties and interest from the IRS. You can read about this in more detail here: IRS ARPA Tax Credit for Paid Leave
What are the COVID-19 workplace obligations for employers
Employers still need to follow the workplace restrictions for COVID-19, even after the expiration of SPSL. For example, employers are obligated to pay for the testing of such staff that may have come in contact with a COVID case and employers need to ensure that testing is available during the employee's paid time. Furthermore, those employees that contract the illness need to be excluded with pay, in accordance with the Cal/OSHA Emergency Temporary Standards.
Employers still need to make sure written, site-specific COVID-19 prevention programs are followed. As an employer, you must administrate your vaccinated employee population, report work-based cases, evaluate and provide guidance for COVID-19 hazards or risk of exposure, create proper policies, and train employees for the necessary workplace precautions. You will also need to ensure the check and balance of employee's potential COVID-19 exposures and report outbreaks to public health officials. Also, employers need to provide proper testing for their employees in case of an outbreak.
Are there other active SPSL Laws employers need to know?
Though the State of California's SPSL expired on September 30th, there are some cities and counties that have their own SPSL measures which have an expiry limit beyond California's SB 95. Some of these counties and countries are:
Long Beach City: The City of Long Beach has a local SPSL ordinance, which mandates the City Manager to report the 90-day state of the effectiveness of the ordinance. It is then checked whether it's still necessary or not based on COVID-19's impact and cases. Until now, there's no report of an expiration date, and the SPSL is in full effect.
Los Angeles City: Even though Los Angeles City's Vaccine Paid Sick Leave Due to COVID-19 measure, which started on June 24th, expired along with SB 95, the City's SPSL order doesn't expire until 2 weeks after the expiration of the COVID-19 local emergency period. Until now, the emergency period has not been lifted, so the SPSL order is still valid.
Los Angeles County (unincorporated areas): Los Angeles County's SPSL ordinance will expire 2 weeks after the expiration of the local COVID-19 local emergency period. Until now, the emergency is still in place, and local SPSL is still valid for Los Angeles County.
Oakland: The City of Oakland passed an emergency ordinance on June 19th, revising the previously applied emergency paid sick leave ordinance of December 31, 2020. The expiry date of this ordinance relies solely on the expiration of the local COVID-19 emergency period declared on March 9, 2020. Until now, that emergency hasn't expired.
San Mateo County (unincorporated areas): Even though San Mateo County's COVID-19 Emergency Sick Leave expired on June 30th, there is still a related law for county employees that ensures emergency sick leave is provided to them if they can't work due to COVID-related problems. The expiry date of this law is on December 31st of this year.
Some possible future law implementations
Many employers will be pleased with the end of SB 95, but many counties and cities like San Francisco and San Jose would take immediate emergency actions to extend or renew SPSL requirements.
It's important to note that President Biden recently announced Path Out of The Pandemic COVID-19 Action Plan. According to this plan, employers having 100 or more employees would need to ensure their complete vaccination or provide their negative reports weekly. These new requirements will be developed and implemented by the Occupational Safety and Health Administration (OSHA) through Emergency Temporary Standards (ETS). But for now, the timeline of ETS is still unclear, and we don't know when it will get implemented in California.
End-to-end Employee Leaves of Absence Management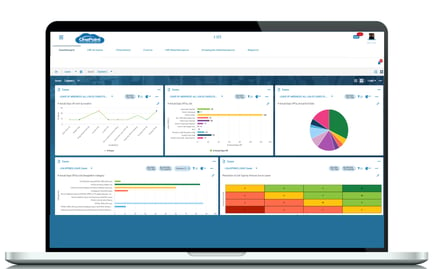 If not handled appropriately, an employee's leave of absence can cause more than just operational bottlenecks – mismanaged leave cases can lead to lawsuits and costly litigation.
Now, more than ever, a company needs to be diligent in understanding leave laws, eligibility and leave processes. However increasingly complex and overlapping regulations make it hard to comply with complicated leave laws.
OnePoint's leave management solution streamlines leave case management to avoid the risks associated with employee leaves. Our flexible HCM solution, built on configurable profiles and rules simplifies the calculation of entitlements and ensure leaves are tracked and handled accurately and in an efficient and timely manner.
Contact Us to learn more about Leave Management Compliance with OnePoint HCM.