As the number of vaccinated US citizens rises, many people are anxious to return to work without masks. However, recent COVID infection spikes will keep both vaccinations and masks top of mind for employers. The politicized nature of vaccines and and facial coverings make it important for employers to have clear policies to reduce workplace conflicts.
Employment Law firm Ogletree Deakins offers general FAQs for reducing workplace conflicts around vaccine and masks.. These FAQs can help employers make vaccine and mask policies that make the most sense for a masked/unmasked or hybrid work environment. Clear but flexible vaccine and mask policies will make it easier to adapt to changing guidelines and set expectations providing a framework to maintain a respectful workplace and act quickly if a workplace conflict arises.
What types of vaccination and mask conflicts might arise between workers?
Any workplace is likely to have employees that are passionate about the vaccination issue. The potential for workplace conflicts will lay in the differing opinions on vaccines and employees tolerance for health risk. Some employees may assume others have not been vaccinated and treat employees who have not been vaccinated as unsafe. Tensions can arise if employees that are adverse to vaccinations, also refuse to wear a mask in the workplace. In each instance, employers need to be proactive to guard against employee bullying based on disabilities, religion, or even politics as they relate to vaccinations or why someone may be unvaccinated.
What might employers do to try to avoid these employee conflicts?
Focusing on safety and respect may help employers prevent workplace conflicts from happening and keep tension from rising on the issue. Requiring face masks in the workplace may be a legitimate safety policy. Permitting exemptions to that safety policy can be acceptable so long as doing so maintains a safe workplace. A culture of respect in the workplace means employees respect their coworkers' choices even if they do not agree with them and that employees should follow the employer's safety policies to protect themselves and their coworkers.
What is an effective employer response to such conflicts?
A quick response focused on company ethics, mutual respect, and corporate culture policies regarding proper interactions between coworkers may help employers effectively address workplace conflicts about vaccinations and masks. Employers may want to encourage all employees to remember that we never know why someone who is fully vaccinated may continue to wear a mask or why someone may yet be unvaccinated. Some employees may, for example, have a loved one at home who is unable to be vaccinated or small children not yet eligible for a COVID-19 vaccine. Or an employee may be ineligible for the vaccine due to a medical reason.
Can one policy fit all worksites?
Updated CDC guidance recommending facial coverings be worn by fully vaccinated individuals in certain locations, presents employers with multi-jurisdictional worksites an immediate decision regarding the approach to facial coverings for fully vaccinated individuals. Some states have enacted bans against providing proof of COVID-19 vaccination in both the public and private sphere. But it does not appear that any jurisdiction (yet) prohibits employers from enacting a universal facial covering requirement.
A policy providing for facial-coverings for all employees seems equitable, and would avoid having to build and manage a jurisdiction-specific plan. Of course this approach has potential fallout as employees may view a "masks-all policy" as unnecessarily, punishing those who have been vaccinated (or do not live with those who are at risk). It could also hinder employees already reluctant to return to the office from doing so unconstrained. But this conservative approach would avoid fluctuating policy changes in response to weekly changes in case counts at each worksite the employer operates.
Should I ask about vaccination status?
While the common advice for most employers is to NOT mandate vaccination, asking about vaccination status can be helpful for several situations. Stephen Riga, an attorney with Ogletree Deakins in Indianapolis, explained in a recent shrm article that, "employers should avoid making medical inquiries that could run afoul of the Americans with Disabilities Act (ADA). However, simply asking for proof of a COVID-19 vaccination is permissible under the ADA because it is not likely to prompt the employee to provide disability-related information". Other advise is to avoid follow up questions about why the person did or did not get the vaccine.
Planning for vaccine tracking procedures is recommended by leading employment law professionals. While only a handful of jurisdictions have passed health orders obligating employers to track vaccination status, it seems that this is a likely outcome that will place new administrative burdens on employers.
OnePointHCM vaccine tracking utility automates and simplifies this process through self-service. A self-service process requires little need for HR administrative oversight, and gives your employees a choice to respond (unless government mandated). This data can also assist with office social distancing plans, scheduling and mask policies. However consult local mandates and specialist advice concerning potential liability of collecting and storing vaccination or any type of employee health information.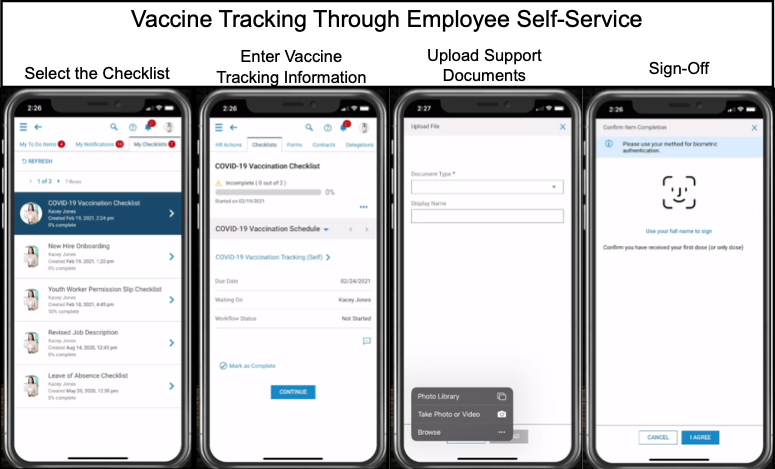 Now is the time to discuss return to work strategies
The vaccination and facial covering issue isn't going away soon. Employers should have a clear plan to manage evolving issues like vaccinated and unvaccinated employees. Clear policies make it easier to prevent or resolve workplace conflicts regarding vaccines and other workplace safety issues (like PPE and masks) to de-escalate tensions so employees can focus on work.

The content of this article is intended to provide a general guide to the subject matter. Specialist advice should be sought about your specific circumstances and evolving legislation and health mandates in the jurisdictions where your organization operates.