Every Human Resources Department faces a number of issues on a daily, weekly, monthly and even yearly basis. This can make it tough to keep up on one of the most important and mission critical responsibilities - HR compliance. Managing even routine compliance issues is time-consuming and complex, and if not done correctly, it can cause major problems down the road for your organization.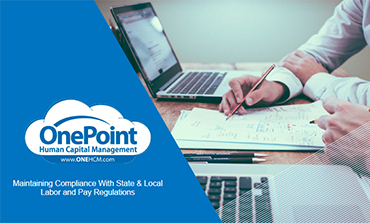 What is the solution?
The OnePoint HCM Platform you already have. Using your OnePoint platform and complete suite of services, you can consolidate all of your HR compliance functions. The single Human Capital Management System (HCM) gives you complete transparency into your workforce, but moreover, acts as your own personal quality control.
Saving Time
Let's simplify and streamline everyday paperwork and managing of administrative responsibilities to maintain compliance. Our HCM technology allows you to consolidate all your HR, time, payroll, benefits and employee records into one, truly unified database.
Because you don't have to collect data from multiple sources, we help automate the processes, workflows and reporting that is associated with state and federal compliance. Dramatically reduce the time it takes to produce accurate reports. Decrease the time and energy it takes to keep track of everything needed for compliance reporting by eliminating the hassle of the double and triple checking that is associated with manual facilitation.
Ensure Accuracy
Reporting is an arduous task. The increase in labor laws and the increasing complexity of federal, state and local laws has HR departments scrambling. It may mean gathering information across multiple departments just to produce a single report. It may mean that the data needed is dispersed across disparate systems.
Siloed data means you're more likely to encounter errors and inaccuracies which dilute the efficacy of reporting. The OnePoint technology puts all the information at your fingertips with a single login. HR managers can easily access hundreds of compliance reports out of the box. Or use the report editor and filters to produce custom reports specific to your organization or industry.
Export the data into various formats and file types to facilitate electronic submission processes, while archiving data and data mining for predictive analytics and forecasting.
Mitigate Risk of Non-Compliance
Let's face it, there's no bigger challenge for HR than managing company compliance – from deadlines to amended regulations to new legislation – it's a standard headache for HR administrators. Preparing and submitting accurate reports like the EEO-1, OSHA 300A, Vets100, is arduous to say the least. Maintaining employee licenses, certifications and training can be a full time job by itself. But failing to keep accurate records and file them on time can open your company up to costly fines and penalties from the government.
OnePoint HCM gives you the ability to prepare reports and filings accurately and on time right through the platform. Plus, you can set reminders, find out if information is missing, and get the latest updates from agencies to ensure changing legislative, union, and industry regulations are abided by.
OnePoint HCM is the only resource your business needs to manage the business of HR compliance. From workflows and automation to document repositories and retrievals, data archives and insightful reporting, maximize your technology and HCM partner to eliminate the stress of HR compliance. Contact us to learn more about our unified HCM platform and flexible pay rules configurations.