Six weeks into the Biden Administration, New Federal Employment Law priorities are coming into focus. Already there are many new laws and regulations that are on the horizon for 2021 and beyond. What are the priorities for Federal labor and employment law under President-elect Biden and his administration? Let's look at some short-term and long-term employment law priorities employers need to watch.
Check out SHRMs week by week summary of employment law priorities to watch with the Democratic Administration.
Regulations Affecting Wage and Hour:
Independent Contractor classification changes are more restrictive to place more worker protective interpretation of the employee status similar to the recent rulings in California.
Federal Minimum Wage Increase
Overtime Rule Changes
Wage Theft Law provision added to FLSA.
Read more from attorneys at Littler:
Wage and Hour Developments During the First Month of the Biden Administration
Employment Contracts / Agreement Parameters and Restrictions
Prohibitions of mandating arbitration as a condition of employment
Restructuring use of non-compete and non-solicitation agreements
Read more insights from SHRM Biden Plans to Ban Noncompete, No-Poaching Clauses
Reversals and Freezes of Previous Administration Executive Orders:
Trump's EX addressing the "combatting race and sex stereotyping" prohibition on federal contractors.
Midnight law making freezes for pending legislation during administration transition
Pro Union / Collective Bargaining:
Pro Worker / Collective Bargaining / NLRB Pro-Labor Board appointments
Reversals of NLRB previous precedent setting decisions and regulations.
reduction in process restrictions for solicitation and less restrictive financial transparency of union dues and expenditure.
Read about Biden's current nomination for General Council of the NLRB (announced Feb 17, 2021)
Predictions On Future Employment Law Priorities
Other Employment law priorities the Biden administration is likely to focus on over the next few years include:
Broader anti-discrimination laws;
Possible changes to the ADEA to increase protections for older employees;
Increased restrictions on non-compete agreements;
Overtime rule changes;
Enhanced pay transparency to prevent wage theft;
Pro-employee/union legislation.
Source: Barnes & Thornburg LLP, Article, Watch Out! Three Big Issues All Companies Need to Monitor at the NLRB
HCM Solution Make it Easier to Adapt to New Laws and Requirement
During a time of change it is more important than ever to have the right systems and support to adapt to the changing legal landscape. The complexity of wage and hour laws, employee leave, workplace safety, privacy, etc. reinforces flexibility for HR technologies. HCM software can break down data silos and lessens the effort to monitor critical legal issues and minimize compliance risk. A single HR data infrastructure speeds reporting and enables better workforce analytics. Better reporting improves decision making and the ability to correct compliance issues right away.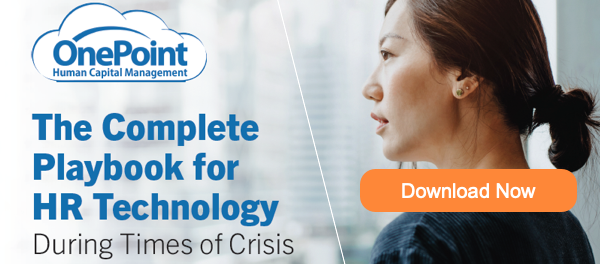 Employer To Do List:
Review handbook policies for Clear and Concise language, employee communications, and consistently applied and enforced practices. Some policies to watch for amendment recommendations: Employee non solicitation policies, use of company property (emails and internet), policies restricting employees right to privacy at work and the use of social media.
Have all contracts reviewed immediately following changes in contractual law, by an experienced labor law attorney.
Review and audit rules in HCM software when a wage and hour law changes and at least annually to ensure current regulatory compliance obligations.
Take a conservative approach to defining and classifying Independent contractors to reduce liability of any retroactive implications on your current practices.
Contact OnePoint HCM to discuss new HR technology solutions for your organization