Engage and retain top employees with employee development, recognition, and compensation plan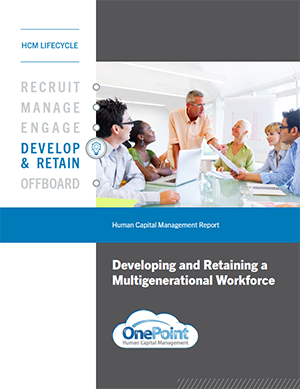 The improving economy and low unemployment rate has made recruitment challenging across all sectors. In a tight labor market, talent retention strategies are more important than ever. Due to the connection between employee engagement/satisfaction to high-performance and retention, it is no surprise that a recent poll of HR professional rank employee engagement and talent acquisition the #1 and #2 concerns for HR1.
This probably isn't going to change anytime soon for employers. In fact a recent Global Talent Crunch Survey, conducted by Korn Ferry Executive Search, finds that industries from technology, IT, nursing, financial services, and manufacturing are already in an "era of scarcity in abundance" which means there are plenty of people, but not enough with the skills they need2. Losing an employee in a skilled position will be harder and take longer to replace, if that perfect candidate is even out there, making retention strategies a high priority.
The most interesting reminder this survey pointed out is that salary isn't necessarily the driving factor for top performers to stay at an employer. To retain top employees, companies that focus on a mix of culture, employee growth, as well as compensation will be in a better position to keep top employees, boost engagement levels and compete for new talent long term. The key is knowing your workforce; i.e. generation, culture, age, life stage, etc. as the reasons for their retention can change over time.
The Value of Retention
Employees come, employees go, that is a natural part of business. But voluntary employee turnover has significant costs to employers. There are obvious recruitment costs to post jobs the administrative time and resources to screen resumes, conduct interviews, onboarding etc. Studies have found that the cost to hire and bring a new employee to full productivity can range from 1.5 to 3 times the individual's salary3. There is also soft costs of lost institutional knowledge, productivity and team morale, especially if a key position goes unfilled for an extended period of time and others are picking up the duties for this opened positioned.
Here are three areas to consider to boost employee retention
Invest in Employees
Top performing employees are going to want to build their skills, take on more responsibility, and gain experience over time. Ultimately those enhanced skills make them more marketable, but employers that invest in their employees, without being afraid of them leaving, actually builds a stronger relationship between the employee and the company. They see the company as a partner in their development and that the company is contributing to their personal goals. Which in turn affects employees in two positive ways: making employees feel valued (49 percent), and improving employee physical and mental health (44 percent). Professional growth and development paths for your employees provides a framework for measuring goals and achievements.
Employee Recognition
So yet another simple, and cost effective engagement strategy is to build recognition programs for your employees. Gallup's 2017 State of the Workplace Report found that 68% of the companies with value based recognition program saw a positive impact on employee retention. Further 73% of of employees that were recognized in a 6-month period felt highly engaged. Anything from a high-five from a manager, an email or a shout out in a group meeting. An employees feelings of value; that their work is significant to the business, that they are appreciated and needed have a big impact on their level of job satisfaction, which directly affects the employees willingness to engage and their level of such engagement, which in turn affects their productivity.
Benefits and Total Compensation
Many times the decision for an employee to leave has nothing to do with salary...but sometimes it does. More often than not, if the decision to leave is based on salary or benefits, there is typically employee is feeling undervalued due to a discrepancy between their contribution and compensation. Organizations can monitor two important factors to reduce turnover due to compensation
Stay on top of the total compensation package compared to norms in the industry and location
Take feedback from employees about what they want
With this information employers can decide if they want to lead, match or lag on compensation categories. It is expensive and risky to be a leader in every category, but by understanding what is important to your employees, your culture and your industry, it is possible to design a total compensation package where you are leading in certain areas, matching in other categories or intentionally lagging and therefore can position your compensation package accordingly.
So, they key is to communicate with your employees...This show them that their contributions are valued. Communicate with them, ask them, their managers, peers, etc. This shows that the company cares! This coupled with providing appropriate compensation and investing in technology and tools to monitor performance, and track professional growth are the right steps to a retention strategy beyond salary. Companies that start building talent retention strategies today save money, save time and more importantly create a positive work environment which contributes to the employees mental health and overall satisfaction in life.
Sources
1) https://www.shrm.org/hr-today/news/hr-news/conference-today/pages/2018/top-5-priorities-for-the-hr-department-of-one.aspx
2) https://infokf.kornferry.com/global_talent_crunch_web.html?_ga=2.237190208.197349703.1529592088-164755923.1493823328
3) Annie Mueller, The Cost of Hiring a New Employee (February 23, 2015), found at
http://www.investopedia.com/financial-edge/0711/the-cost-of-hiring-a-new-employee.aspx.