Remote work has been a growing trend for a number of years now. Initially remote work was used as perk/benefit showcasing culture and work-life balance. However in recent years the remote work trend has gained momentum as a way to increase the talent pool during a period of low unemployment.

Whether remote work is part of office culture, promoting work-life balance, or a way to attract talent, technology is the backbone that makes remote work possible. Most business applications have moved to cloud delivery. Everything from emails, file share, and CRM, to video conferences, work platforms, and business applications can be accessed with an internet connection.
Employers should expect the same capabilities from their HCM solutions. Modern HCM solutions offer several benefits that support the transition to remote work. Implementing an HCM solution that is available through secure login from a web browser, makes it much easier to quickly adapt to massive transition to remote work compared to in-house or multiple systems.
Any Device User Experience
Modern, all-in-one HCM solutions deliver a consistent user experience for workforce functions and HR tasks on any device. These solutions make the transition to remote work easier because employees can see the same user interface and functionality wherever they login. Secure web architecture lets employees access their self service portal from a home computer, tablet or mobile device. They can manage and submit time sheets, make leave requests, check pay and accrual balances, do expense reports, access training/LMS and more just as if they were in the office.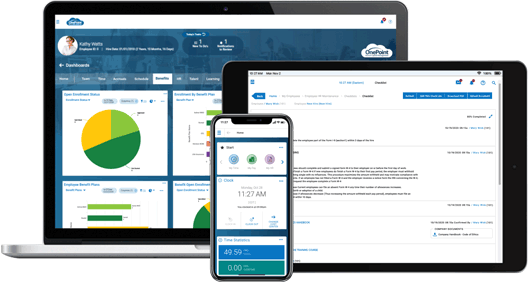 Automate Time Keeping
Remote workers might be salaried or hourly. Mobile timesheets can be activated quickly when hourly employees are converted to remote work. The time sheet can be completed from any device so they can track their time (projects, assignments, tasks) and submit timesheets. When salaried employees are transitioned to remote work, time sheets can be an accountability tool for manager and supervisors to review on check-in calls.
Integrated Training Courses
During this sudden transition to remote work, many organizations have been focusing training requirements and employee development to capitalize on the slower time. However starting new training tools can be challenging. The benefit of an all-in-one HCM solution like OnePoint is access to a full LMS within the same UI. Turning on the training is easy. Clients can select their subscriptions packages, and upload their own training modules. Employees access the training through their self-service and because all of the 300+ courses are in OnePoint, administrators have real-time dashboards to track progress and completion dates.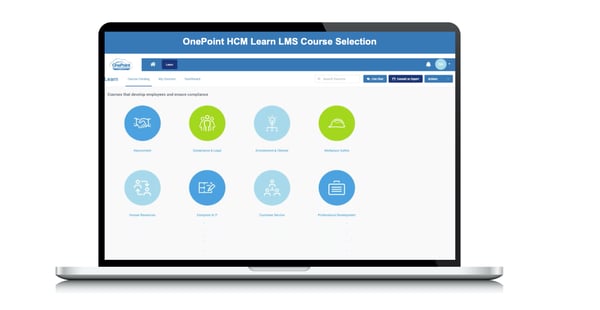 Communication
Being able to rapidly communicate with your employees is always important, especially in response to dynamic and changing situations (COVID-19 or otherwise). But communication can be challenging with a remote workforce. Modern HCM solutions like OnePoint offer global and group communication tools to deliver messages on multiple platforms. Staying ahead of the curve with an inbox/message center, announcements board, login pop-up message, and employee's email on record. OnePoint has also introduced texting capabilities, which allows them to send out mass text messages to all of their employees at once, very easily from the OnePoint HCM platform. No one else has an Emergency Broadcasting System built into their platform like OnePoint. We're always staying ahead of the curve, and are here to help you even in the toughest of times.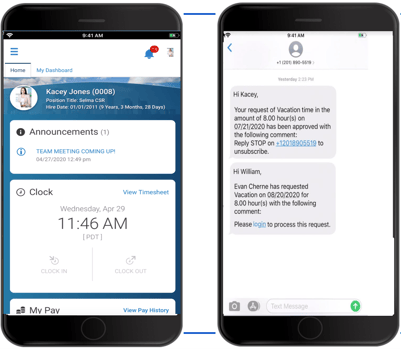 Secure Payroll Processing
During the business shutdowns, government mandates prevented employees from going into an office. But access to the office could happen with any other emergency or natural disaster. Businesses that run payroll in-house on proprietary systems run the risk of missing payroll in the event they cannot get into the office. HCM solutions like OnePoint built on modern web architecture make the entire payroll solution and action available through a browser, including payroll processing. So even if your staff can't make it into the office, with online timesheets and payroll in one system, payroll can be processed remotely. Administrative profiles can have added authentication protection added to boost login security for sensitive information.
Engagement
Remote workers present new challenges to managers and how they engage with their teams. Email, screen sharing, project management software all help with communication, and so can your HCM. Our HR suite combines Performance, Training, and Goals Management all in one place and visible for the employee and manager. Measuring employee performance to goal dashboards can be an effective tool to reference during 1x1 or check in calls to make sure employees are on track and have the support they need to be successful.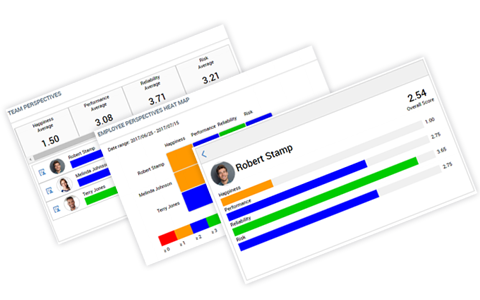 Compliance
Remote workers are subject to the same wage and hour requirements as their office counterparts. In situations where your hourly workers are able to work from home, both employees need to follow the same requirements as in the office. They need to take their required breaks, they need to track time (overtime will apply). On the flip side managers need tools to monitor activity. The benefit of working is an all-in-one HCM is that your managers have real-time time and attendance activity to keep employees on track and compliant. More compliance features include mandated training (ex, harassment prevention), e-law posters, attestation questionnaires and device geo-fencing capabilities.
During times of uncertainty and change, communication and consistency for your employees can make a big difference on the organization's ability to adapt. Unified HCM solutions like OnePoint offer a single system to consistently communicate, engage and develop employees, while maintaining compliance no matter where they are working.