A solid record keeping strategy is the foundation for employer compliance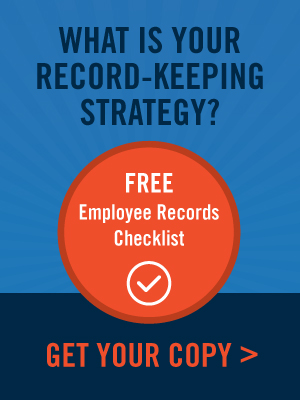 As we move closer and closer toward becoming paperless in this digital age, many HR managers wonder if this is even an attainable goal. Aren't there just some employee files that must (or ought) to be kept as original paper documents?
Two things to consider when attempting to answer this question. 1) legality, and 2) convenience and efficiency.
From a legal standpoint, the concern is minimal. Many government agencies are moving toward electronic forms and submission processes, so there is a growing comfort level with maintaining employer-side forms and records electronically.
As long as retention periods are being observed and necessary documents can be produced and printed when requested and/or required (such as during an audit), there's typically no reason to keep the originals or use paper when digital means are available.
That said, there are several important considerations to implement an electronic recordkeeping strategy:
Create a policy for electronic record keeping and have a mechanism for your employees to read and understand that they will be reviewing documents electronically and clearly understand how the electronic signature process occurs.
It is important that some documents have time and date stamps that reflect the original creation date—and that the creation date remains visible and unchangeable even with future revisions. Employers will need to take this into account.
It may be beneficial to document who has accessed a file over the entire time the file is kept.
Employers need to consider the legal requirements for files and databases when creating any new electronic system.
The format used should maintain the integrity and authenticity of the documentation. There should be no easy ways to falsify records.
The printed versions should be legible and contain all information in an easy-to-read format.
The documents need to be easily searchable in order to be immediately accessible when needed.the employer may still need to have paper copies of documents, such as notices that are required for employees who do not have access to the electronic versions.
Have a secure backup method and/or disaster recovery plan in place
The other consideration is convenience and efficiency. If you decide move to electronic records, all-in-one HCM solutions like OnePoint can be a good solution! Our single database platform is built on a single employee record that eliminates disparate systems for increased record management and compliance. Secure and cloud based system offers robust self-service features so employees can review, sign and submit required forms electronically.
The system delivers the standard federal, state employment/payroll forms, benefits enrollment forms can be delivered and executed electronically and specific company forms can be converted to a digital version. Moreover forms/certification that come from other sources can be uploaded and stored on the employee record.
Convenience and efficiency benefits include:
Secure system accessed by unique username and password with an e-signature process that include date and time stamp plus IP address capture
One Employee Record eliminates multiple systems for quicker retrieval of any employee documents for HR.
Standard federal and state forms are built into the system and updated as new versions are released.
Convert specific forms, local forms, most onboarding documents (Handbook), benefit plans and more to a digital format.
Import scanned documents and add to the employee profile (like outside certifications or credentials).
Self-service features single employee's profile employees can access their profiles and forms at anytime without having to make request to HR or payroll.
Checklists with workflows to ensure required forms are reviewed and submitted by due dates.
Rules based permissions and administrative rights make it possible for certain employee records to be reviewed by managers while adhering to privacy laws and permission based on policies and legal obligations.
Regardless of the sophistication of the electronic recordkeeping being implemented, employers must follow the guidelines published by the U.S. Department of Labor in its Final Rules Relating to Use of Electronic Communication and Recordkeeping Technologies by Employment Pension and Welfare Benefit Plans for documents governed by the Employee Retirement Income Security Act (ERISA).
Employers may choose to implement this standard for all electronic record-keeping including employee records. These rules focus on key topics such as safety, accessibility, privacy, records management and retention of paper copies. Of course employers are encouraged to consult with a labor law attorney to answer specific questions or concerns related to electronic records management.
Contact OnePoint for more information on our all-in-one HCM solution including capabilities to facilitate collection and retention of electronic employee records. Experience the productivity, efficiency, engagement and compliance benefits of automating workflows and processes through a unified workforce management system.