The COVID-19 vaccine is an important step toward bringing employees back to offices safely. Most authorities advise employers not to require or incentivize vaccines, but find ways to encourage staff to get the shot. One way to encourage vaccinations is to create a paid time off for vaccine policy.
The Biden administration has also called on U.S. employers to offer full pay to their employees for time off needed to get the COVID vaccine. They suggest building in time to recovery if an employee should experience any adverse effects from the vaccine. There are tax credit incentives for employers who offer paid leave for COVID related reasons, moreover it is a simple way to support employees and a healthy workplace.
Tax Credits Available For Paid Leave
The paid leave tax credit applies to employers with fewer than 500 employees that pay sick and family for leave from April 1, 2021, through September 30, 2021. Small and midsize employers and certain government employers can claim refundable tax credits that reimburse them for the cost of providing paid sick and family leave to their employees for COVID-19 reasons. This includes leave taken by employees to receive or recover from COVID-19 vaccinations. (See The IRS posted information (including a fact sheet) about the plan.
The IRS has informed taxpayers that the paid leave credits under the ARPA are tax credits against the employer's share of the Medicare tax. The tax credits are refundable, and the employer is entitled to payment of the full amount of credits if it exceeds the employer's share of the Medicare tax. The tax credit for paid sick leave wages is equal to the sick leave wages paid for COVID-19 related reasons, for up to two weeks at 100 percent of the employee's regular rate of pay.
Further, the tax credit for paid family leave wages is equal to the family leave wages paid for up to 12 weeks, at two-thirds of the employee's regular rate of pay. Importantly, the amount of these tax credits increases according to allocable health plan expenses and contributions for certain collectively bargained benefits, as well as the employer's share of social security and Medicare taxes paid on the wages.
Tracking Paid Time Off for Vaccines
The IRS recommends eligible employers report their total paid sick and family leave wages, health plan expenses and collectively bargained contributions, including their share of social security and Medicare taxes on the paid leave wages for each quarter on their federal employment tax return.
Creating a custom PTO request is a convenient way to initiate and track the Paid Time Off for Vaccine Policy. The OnePoint platform makes it easy to create a custom PTO Category. The custom PTO process uses checklists and rules to trigger the steps for the employee to complete and gives them specific guidelines on the time off allowances.
Watch The Custom Paid Time Off Workflow through Self-Service
The PTO checklist for vaccine tracking has several advantages:
Set rules for the amount of paid time off for vaccines you are offering.
The PTO request has workflows and HR actions that can route approvals to managers and activate checklists for the employees.
Triggering a checklist makes it easy for the employee to complete the steps for the vaccine tracking process. Through self-service they are prompted with the custom fields and can provide information back into the system.
This method simplifies reporting by having all paid time of for COVID-19 vaccine requests categorized.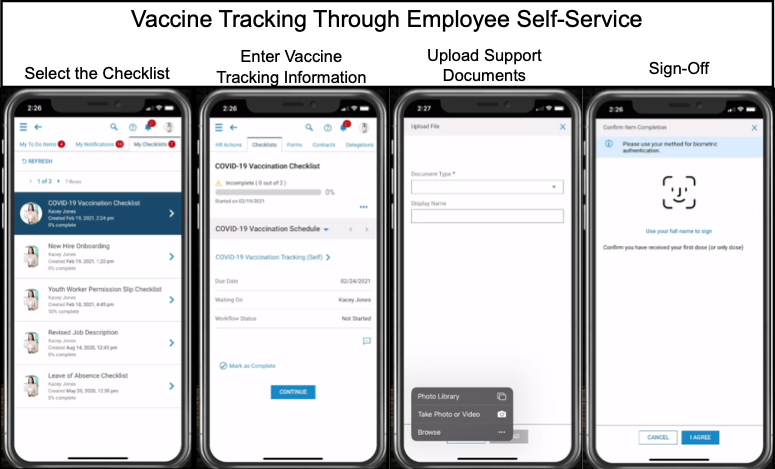 **It is important to note there isn't definitive guidance from CDC or the HHS on whether vaccine data information falls under HIPPA regulatory body for employers at this time. Please consult a labor law attorney to determine if COVID-19 vaccine tracking is appropriate for your organization.
OnePoint HCM Creates Efficiencies Through Automation
Vaccine tracking and PTO requests are just two examples of how unified HCM solutions can give you flexibility and automation to run your business. Modern HCM solutions like OnePoint give administrators flexibility to adapt quickly to new requirements and support strategic initiatives in one system.
Unlike many payroll solutions, administrators can build customized workflow processes on their own in OnePoint. Simply build checklists and event triggers that kick off approval routing requests, due dates, expirations, etc. Custom screens replace paper processes with structured workflows that simplify implementing a Paid Time Off for vaccine policy.
Read our Buyers Guide to learn about the 5 ways modern HCM solutions deliver long-term ROI compared to using siloed databases and legacy systems. Or contact OnePoint HCM to learn how our unified HCM solution can create flexibility, productivity and long-term value for your organization.