As the COVID-19 coronavirus continues to challenge the nation, various states are enacting laws to assist workers to maintain their jobs as they juggle working, home school, illness during these challenging times. These laws impact employers as well, trying to keep up with all the new compliance legislation to meet requirements and avoid mistakes.
In California, for example, two recent bills moved through the state legislature – CA SB 1383 and AB 196. The net impact is significant for business as these new laws make more changes to paid sick leave eligibility and workers' compensation claims.
Based on the latest paid leave legislation to come out of California, there are three key things businesses of all sizes should be aware of.
1 – Just When You Thought You Had a Handle on FMLA…
SB 1383 is an amendment to California's family medical leave laws, and has been signed into law, due to come into force in January 2021. Simply put, it removes most protections on small businesses whose employees are requesting family or medical leave. Previously, companies with fewer than 50 employees were exempt from most family leave laws. Now, companies with as few as five employees will have to provide protected leave.
Plus the reasons for eligible leave has been expanded and paid sick leave can be taken in hourly increments as well. All these changes in total are extremely burdensome for small employers who now have to learn a new law, put processes in place and absorb the cost of as many as 12 weeks of paid leave for COVID sickness reasons.
And, of course, any employer who fails to comply can be hit with crippling lawsuits.
2 – Worker's Comp-lications
AB 196 is currently not law, and as of writing has been placed in the "inactive file" within the state legislature. However, it still bears watching because it could be a detriment to companies.
If it passes, AB 196 would significantly expand worker's compensation rights with regard to COVID-19 infections. If an essential worker contracts COVID-19, the bill would create a legal presumption that their workplace is at fault - even without clear evidence of the infection's origin. In the most recent text of the bill, this presumption can be disputed by the workplace, but their window of opportunity is shortened to only 30 days after initial notification.
3 - Flexible Technology is a Must to Manage HR Compliance
If there's one thing that the pandemic has taught us in regards to the workplace, is that you need to adapt. The only way to do this is to have flexible technology capable of adapting with your business and at the speed of change. OnePoint HCM is designed to meet the needs of today's mobile and connected workforce. With solutions that streamline workflows, no matter how new or emerging the tasks may be, and detailed reporting to help you get a handle on compliance, OnePoint HCM is trusted partner for California businesses.
Download our free ebook, Crisis Management and HCM Technology, to learn why having the right solutions is critical for businesses in today's landscape.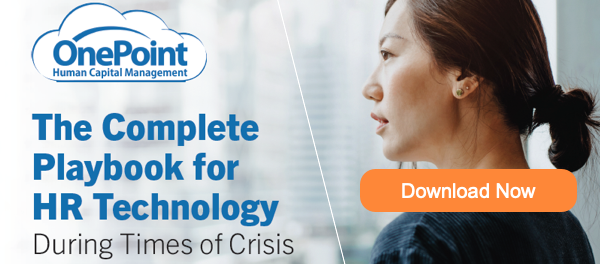 Unifying all your workforce data can simplify reporting and compliance management, and request a demo of OnePoint HCM, to put innovative HR technology to work for your company.