The remote work trend is here to stay, at least for a while longer. While many businesses had hoped to bring workers back after Labor Day, a new survey of managers and executives suggests a long, uncertain road ahead. 35 percent say the timing of when their companies will reopen the workplace is unknown.
Here are some key findings from the Conference Board Survey:
No reopening date. Over a third of companies have not set a date for reopening. In addition:
39 percent of companies plan to reopen by the first quarter of 2021.
Only 13 percent of companies have remained open throughout the pandemic.
The Locations with the highest levels of uncertainty:

Miami (46 percent)
Seattle (43 percent)
San Diego (42 percent)
Washington, DC (41 percent)
San Francisco (41 percent)
The Conference Board survey also found that only about 60 percent of companies have consulted their workers about their levels of readiness and comfort in returning to the workplace. Further indication that short term reactions are turning into long-term realities for remote work and telecommuting. Human resources are looking for solutions on how to balance remote work while still engaging employees and providing the tools for communication and productivity.
Workforce Technology Support Remote Work Strategy
Many organizations are facing challenges managing their remote workers. The unplanned move to distributed workforces has disrupted "business and usual" for everyone. Communication is different, processes are slower, access to systems has to change making everything more difficult. Companies without a plan or the right systems have seen where they can improve and one way you can be more nimble and flexible for change is with the right HCM/workforce technology infrastructure.
Rather than adding more systems or apps, all-in-one HCM technologies can bring the workforce data together into one place no matter where your workforce is located. In our new eBook, "HCM Technology to manage times of Crisis" we outline ways that HR Teams can harness technology to be more agile and nimble to adapt or to unplanned changes or simply be ready to evolve to new workforce trends.
1) Use technology to focus on people
A gallup poll found that the number of remote employees increased from 33% to 61% of the workforce. Remote workers may need extra support and extra ways to stay connected to the organization. Choose an HCM solution that can serve as a communication hub. In-app communications, push notifications, text alerts, email, and other forms of communication can all flow to employees so they get updates on whatever channels are available. Processes like scheduling can be communicated directly to shared calendars. You can empower employees with self-service shift swaps. Full Suite HCM can provide employees a single access point for training, performance reviews, leave and PTO requests, access to personal data and other services right at their mobile device.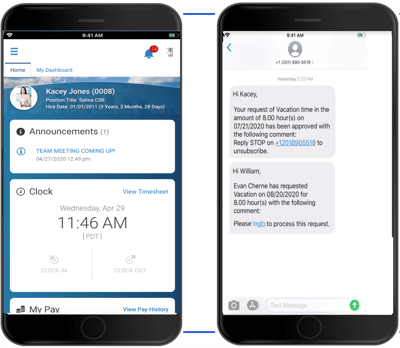 2) Simplify timekeeping and scheduling
The transition to remote work has bigger implications for your hourly workforce. These employees are used to their schedule, time keeping and taking required meal and rest breaks in an office setting, most likely with a supervisor around. With out the right tools timekeeping can be much more difficult and had to manage wage and hour issues when managers aren't interacting with employees. Our HCM solutions can streamline timekeeping via a responsive timesheet and seamless options for scheduling and punching via a web browser or mobile device. Manager views of their teams are consistent even when working at home. Managers can monitor real-time exception reports to enforce breaks and monitor hours worked to control wage and hour issues and labor costs like unplanned overtime.
3) Keep remote employees productive and connected
Remote employees need a robust network of employee self-service options to help them track what matters to them. Being able to manage and handle routine HR and time keeping tasks can go a long way to reduce the stress of working with less resources. Consistent workforce processes allow employees to focus on their work without worry about extra work to fill out a time sheet, request time off or review benefit plans. HCM solution can be the communication hub. In-app communications, push notifications, text alerts, email, and other forms of communication can all flow from a central HCM system. HCM systems can help by automating common managerial processes and workflows. This keeps frontline employees on track and gives managers the data and analytics to communicate and manage tasks that positively impact business goals.
4) Harness real-time data for faster, more informed decision-making
HCM technologies can provide HR leaders and management robust and detailed reporting and analytics on what employees are doing, no matter where they are. Keep up on productivity, get real-time alerts for wage and hour exceptions, post schedules, send announcements, assign training, run payroll and more. The benefit is that all your HR and workforce data is in one unified system. A seamless and unified user experience is superior to manual data and siloed systems, especially when rapid and dynamic data is needed to adapt to COVID-19 or other emergency planning scenarios. Leaders should tap newer technologies and tools that enable real-time data collection and reporting.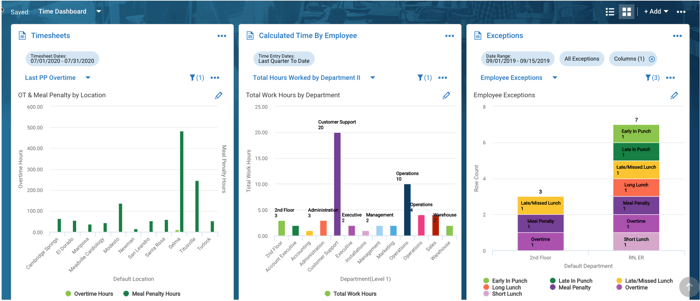 About the survey. The survey polled more than 1,100 businesspersons across 20 US metropolitan statistical areas (MSAs). The respondents—primarily C-suite executives, vice presidents, and senior managers—represent a cross-section of industries. The online survey was fielded from August 19th –26th.