As a nonprofit organization, keeping costs low is of paramount importance - particularly if you rely heavily on donations and grants for funding. Any strategies or tools that will lower nonprofit cost of operations means more money you can put towards the mission and communities you serve.
Non-profit organizations employ truly incredible and inspiring people, but people are also the biggest operating expense. So it is important to focus on efficiency and productivity to maximize the effort and resources devoted to critical activities. Implementing the right HR technology can deliver automation and productivity tools that can reduce nonprofit costs of operations not only within the HR department itself, but across the entire organization. OnePoint nonprofit HR solutions can simplify employee tasks, reduce HR administration and streamline reporting to generate real savings in both operational costs and the bottom line.
How can HR technology influence a nonprofit cost of operations?
1 – Accurate and timely data for grant reporting
Many nonprofits rely on public and private grants as a source for funding - but they often have strict qualifications and require extensive documentation. Producing grant funding reports can be tedious and error prone if you have to comb through payroll records by hand. HCM technology can streamline time keeping and automate the submission to payroll. Efficiency gains from eliminating redundant systems and duplicate data entry can create a significant reduction in a nonprofit cost of operations. Moreover when time cards can be set up to match cost centers employees can better match their work to their projects. Generate more accurate time logs and easier labor cost accounting. At the end of the year grant reporting becomes an audit not a tedious fact finding mission.
"Using disparate systems, with spreadsheets and siloed online software, to track time, payroll and grant funds, took the staff up to three days to complete payroll and took time away from mission-critical tasks. Automating time keeping and payroll with OnePoint HCM cut that process to hours not days."
- Payroll Manager - Family Counseling Center
2 - Avoid compliance headaches
On the topic of data and reporting, compliance is another major issue. More and more regulations on employee management and data-storage are being implemented, and it's easy to run afoul, even if you didn't mean to. Violations lead to costly fines, bad PR, or worse. Centralizing key employee data makes it easier to track, manage and demonstrate regulatory compliance. When all your employee data is in one place you can start to build reliable reporting and eliminate tedious tasks like tracking employee licenses and certifications dates.
HR technology uses rules and workflows to make it easier to monitor things like overtime, wage and hour issues and certification/licensing. Making employees more productive and creating efficient processes can help lower nonprofit cost of operations, and lower compliance risk.
We work with hundreds of clinicians and have to track various items such as CPR, license renewal, TB, and other required documentation. OnePoint was configured to monitor certification and expiration dates and send automatic emails to prepare clinicians prior to their credentials expiring. This saves 3-4 hours a month in communication time with our employees.
- Director of HR, Social Services Clinic
3 - Employee self-service cuts HR administration costs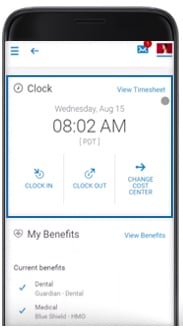 How much time does your HR department spend dealing with employee inquiries and ad hoc requests, such as looking sick time accruals or sending a paystub? It has been shown that HR department that do everything manually can spend up to 60% of their time taking and addressing employee questions and requests. What if that time could be almost entirely reclaimed?
A good HR automation software package should offer self-service access on computers, and mobile devices. Empower employees to take care of routine tasks and simple questions on their own. This not only saves HR time, but an easy self-service experience has been shown to boost employee engagement and satisfaction.
4 - Unified employee database eliminates duplicate efforts
In some ways, HR automation software works like CRM software, but for your workers rather than your customers. Using unified HCM solutions all employee data is stored on one record in one database. you can not only eliminate the cost of several systems, but you also eliminate the time and effort to keep those databases in synch. For a non-profit, being able to eliminate time consuming tasks can lower nonprofit cost of operations. Further, HR actions and workflows can be used to trigger alerts, certification expirations, employees approaching overtime, late punches or missed breaks, directly to HR and managers all within the single platform.
By switching to OnePoint we were able to automate over 3,300 time sheets that the payroll team was receiving manually and rekeying into payroll. in the first year we saved hundreds of hours in low value administration time for employees, clinicians and HR that resulted in a $10,000 saving and an immediate ROI
- Director of Human Resources, Community Hospital
5 - Work from anywhere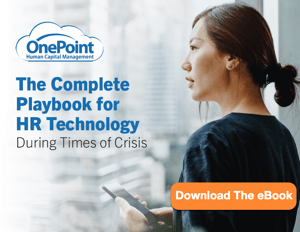 HR automation is cloud-based, so it's no longer tied to your local servers. This is great on one hand because it means your data is safer, and can't become inaccessible in case of some local disaster or emergency. It also means that adapting to work-at-home programs is much easier to achieve, without sacrificing processes or productivity. Many companies are discovering the cost benefits of widespread 'telecommuting' and HCM solutions like OnePoint makes it easier!
OnePoint HCM Nonprofit HR Solutions Suite helps our clients drive efficiency and cost saving. Our cost-effective yet powerful HCM platform is both customizable and user friendly. You will also appreciate our commitment to customer support that the national payroll companies can't match. Schedule a personalized demonstration to learn how our all-in-one solution can help you accurately and efficiently manage your workforce. automation can be seamlessly integrated into your organizations processes and will bring considerable cost savings to your organization.