Over the last 10 months the biggest challenge for employers has been the transition to (and fallout from) remote work. For businesses that could let employees work from home there wasn't much choice. But as months dragged on, many companies realized they lacked the systems, processes and infrastructure needed to support a decentralized workforce. In particular, employers without an online benefit enrollment process faced new challenges supporting remote employees. If you held open enrollment during the pandemic, how would you rate the process?
Manual benefit processes and disjointed systems work when everyone is in a central location. But what happens if everyone is remote? The pandemic is top of mind, but natural disasters, fire, floods can all force an unplanned shut down. As an example, a random act of vandalism forced smoke damage and sprinkler damage that closed the OnePoint's main office for a few weeks. Having cloud systems and processes that support business continuity and remote work is critical project. Modern HCM solutions like OnePoint support business continuity plans for all workforce tasks.
Let's look at 5 ways OnePoint online benefit enrollment capabilities support employees, HR and payroll.
End-to-end online benefit enrollment experience
Last fall a study by the International Foundation of Employee plans found only about one-third of employees (34 percent) have a solid understanding of their coverage options. Even though HR departments spend a lot of time organizing information, employees can get easily overwhelmed with lots of paperwork, hard to understand plan summaries and disjointed enrollment processes.
Having remote employees can magnify frustration on usability issues. How are you going to distribute forms? How do you know employees saw it? what is the process to structure information sessions? Leverage an all-in-one HCM to streamline the benefit enrollment process for remote workers. Deliver a consistent online benefit enrollment experience for both employees and administrators where ever they are.
Consolidate disjointed benefit systems and processes
For many companies the benefit enrollment still has paper-based component. Maybe you have an enrollment tool from a broker, but your 401K is in another system? Then, supplemental life plan has to be done on a paper form? A disjointed enrollment process may have worked before, but has a lot of pitfalls when trying to engage remote employees.
With OnePoint HCM you can configure all your benefit plans into our online benefit enrollment system. Eliminate the administrative headaches of using multiple systems and user support issues. HR can track all enrollment progress in one place. Send notifications, reminders and updates through self-service, email and even SMS text. In OnePoint, any forms and supporting summaries or documentation can be digitized and loaded. Deliver an online benefit enrollment process that is easy to track and simpler for everyone to use no matter where they are working.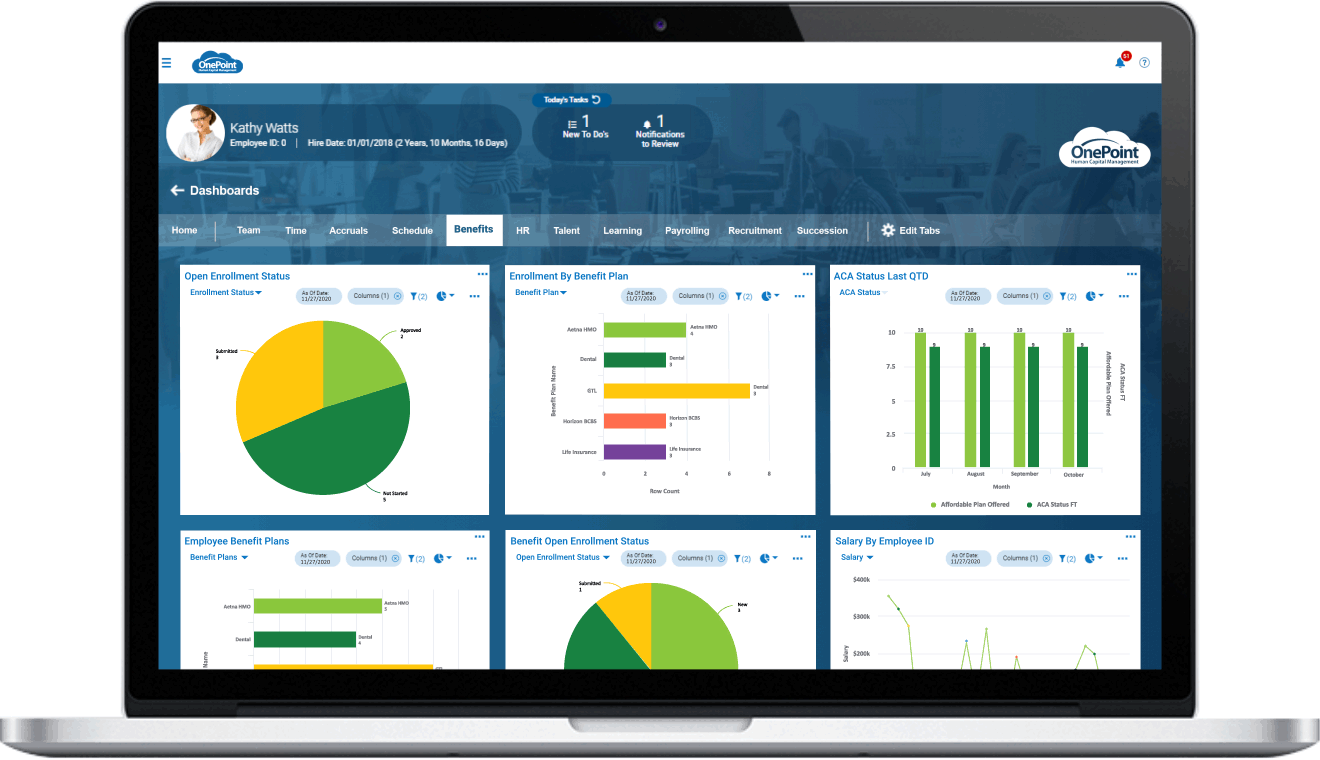 Fully electronic benefit enrollment
Today employees are accustomed to managing personal and professional tasks online. The increase in employees working remotely, has forced employers to eliminate manual and paper processes across business operations. Creating an online benefit enrollment process for all your benefit plans is one example.
OnePoint Benefits Administration Solutions gives the flexibility to create a completely electronic online enrollment process. No matter the mix of benefits, plans can be digitized and configured for a complete online enrollment process. Premiums and contributions can be loaded. Plan summaries and other required documents can be opened and viewed online. Employers can also use profile setting to make sure employees only enroll in the benefit plans available to them.
Employees are prompted to start the enrollment process on their home screen. Additional notifications and reminders can be sent via email, system inbox, alerts pop-ups and SMS. As they complete enrollment, they have a review and compare feature can show the differences for up to 3 plans and show differences in premiums, out of pocket and costs for the plans selected.
Your employees want automation
We found a recent study that found that 55 percent Gen Z employees working from home listed automation software as the top thing that would make them more productive at work. When it comes to Benefits, paper processes create extra steps, especially to accommodate remote workers. An online benefit enrollment strategy will eliminate the extra work for administrators and employees. Eliminate the paper, pamphlets and forms, that are increasingly difficult to manage manually. An online benefit enrollment system will eliminate the frustration, extra work and potential errors for both employees and administrators. And moving forward that strategy will deliver an improved enrollment experience for employees no matter where they are located.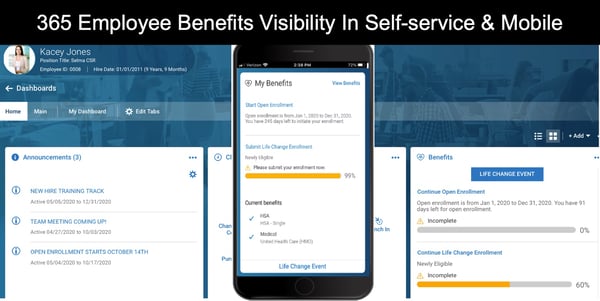 Automated the submission process with carrier feeds
Lastly we come to submitting the enrollment. With an online benefit enrollment process HR can complete the submission process, and can submit enrollment even when offices are closed. Using automated carrier feeds, connect your benefit enrollment data directly to almost any carrier. Relieve the stress on your HR department and reduce the paper enrollment forms and manual data by establishing carrier connections. With all the benefit enrollment data in one place electronically, then you can transmit employee enrollment or life change event information even if your HR staff is working remotely. Minimize compliance issues by eliminating errors caused by paper forms and scanning/faxing.
OnePoint Can Help
Contact OnePoint to discuss implementing a seamless, paper-free benefits enrollment process. Provide HR and employees with clarity, transparency and greater efficiency. Configure benefits plans to suit your specifications and meet your workforce's needs. Eligible employees can review and enroll using self-service login features, freeing you up to support employees instead of tracking paperwork.
Paperless enrollment

from any web-based device
Automated

data feeds to carriers

and 401(k) providers every time period
Flexible approval workflows & notification
Real-time eligibility tracking
Automated

COBRA Administration

& FSA timelines and tools
Rules & notifications for missing/incomplete enrollment packets