Is Your HR Tech Flexible Enough to Adapt with Big Changes and New Laws?
The pandemic created a global shift in the concept of work and the workplace—HR leaders were forced to react and adapt quickly to remote work, new laws, and complex compliance obligations that changed as fast as the virus.
During times of rapid change, legacy technology and rigid HR systems can be a barrier to new priorities and compliance mandates. COVID-19 exposed the limitations of one-size-fits-all HCM infrastructure, forcing busy HR teams into more manual processes (i.e. dual timekeeping systems), ad-hoc workarounds (i.e. manually tracking new sick leave accruals), or having to invest in more third-party apps (i.e. health screening apps)
Innovative companies are realizing that to compete for talent, embrace hybrid work options and maintain compliance, they need flexible HCM technology that can be configured to their unique operations but flexible enough to adapt with change (whether planned or unplanned).
This viewpoint has been expressed by many in the industry, including Rhonda Marcucci, Vice President of the HR and Benefits Technology consulting practice with Gallagher, a global risk management and consulting firm based in Chicago, in an SHRM interview where she opined that technology shouldn't be replaced just because it is old, but because it is no longer aligned with business priorities and goals.
Instead, she suggested that HR leaders consider these questions to assess the negative consequences of existing technology:
Are my current legacy systems standing in the way of flexibility for managing my workforce?
Are my current legacy systems standing in the way of flexibility in my benefits offerings?
Are my current legacy systems creating employee perceptions of the organization as an employer that provides state-of-the-art tools to help them get their jobs done?


The only way to truly manage the growth of an organization and its most valuable asset — its employees — is by upgrading to a truly unified HCM system; one that can be configured to meet your needs and flexible enough to evolve as requirements like the new CDC recommendations or COVID-specific mandates continue to change.
Why Buy and Bolt-on When You Can Get Built-in?
When a new law or urgent business priority hits, most organizations scramble to adjust. Why? Because most times new processes fall outside of the technology box, forcing the "buy and bolt" strategy, creating more logins, redundant work, data gaps, etc.
Most organizations would prefer to build in their existing technology for consistency and long-term value. This is why OnePoint's single-database architecture built on configurable profiles and flexible rules engine offers unique flexibility to deliver new tools and automated processes for clients without added costs or fees.
Attestation tools to support health screening:
The ability to prompt attestation surveys to hourly and salaried employees makes it possible to streamline and implement employee wellness questions. The OnePoint platform already offered configurable Employee Attestation surveys, so when health screening became a strategic priority we simply customized surveys and built separate workflows to route and store this data. Thus, our clients were able to respond and implement solutions to comply with the CDC's and other government workplace safety mandates without extra manual processes or having to buy a bolt-on app.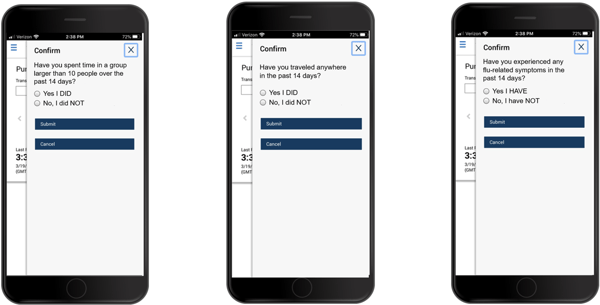 Employee vaccine tracking utility:
Vaccine Tracking is the latest trend in the COVID recovery, and it seems that employers are going to bear some of the administrative responsibility for employees. For many, this will mean a laborious new administrative burden, but not with OnePoint. As vaccination tracking entered into the workplace, we quickly created a Vaccine tracking utility in our HRIS to help clients configure non-HIPAA health fields, like COVID-19 vaccination dates. We configured workflows for a vaccine PTO request and checklists to facilitate employee vaccine data submissions via self-service. Now our clients can proactively configure this automated process inside our HCM and quickly launch this process for employees to meet potential mandates; leaving no workarounds and no expensive third-party apps.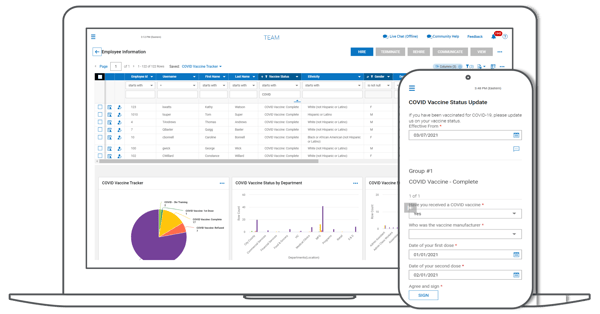 FFCRA-Mandated paid sick time tracking:
Manually tracking paid sick leave accruals and the interplay of entitlements are major administrative headaches and major compliance risks. During 2020, new leave rules were enacted that applied to ALL businesses, even if they were exempt from previous leave rules, such as FFCRA, California Expanded Emergency sick leave, California Family Rights Act, ARPA, and so on. Thus, many of our clients quickly needed to track leave accruals and ensure compliance, and OnePoint was ready to meet these new requirements quickly and efficiently. This is because our system is built on configurable profiles and rules engines.
Watch our solution tour to learn how our single-database and real-time data calculations can be applied to specific groups of employees, even for complex leave scenarios and interplay of leave laws.

Pre-boarding HUB to facilitate remote hiring and onboarding:
For companies that continue to hire during the pandemic, remote onboarding can be challenging without a system or process to deliver an engaging experience for your new hire. This is where OnePoint's Company HUBs stood out. We configured a pre-boarding portal template, which allows our clients to deliver a customized and dynamic onboarding experience for any new hire. This feature was released as part of the HCM platform, with no additional costs or fees.
HR/Recruiting teams provide login access to self-service and set the home screen to the pre-boarding hub, where new hires are presented with a personalized experience including to-do checklists, welcome messages, videos, resources, org charts, social media feeds, and more. Our clients quickly embraced remote onboarding and upgraded the candidate experience for any new hire without any additional costs or implementation.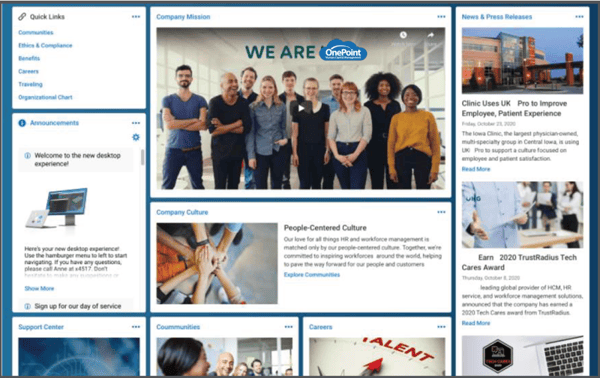 About OnePoint HCM Flexible and Scalable HCM
Since the pandemic began, OnePoint has continued to introduce ways to harness its unified HCM platform to support new work conditions. Utilizing a single-database HCM platform allows companies to have more flexibility to create new processes that are automated and controlled to minimize risk. And new enhancements are always on the roadmap. These powerful tools (and more) allow HR administrators to adapt to new trends and compliance requirements quickly and with confidence. CONTACT US to learn how our system can help you adapt as your business needs and laws change.