Onsite work is the traditional model where employees are physically present at a workplace or office. While this has been the norm for decades [even close to a century], this workplace model shifted drastically when the onset of the COVID-19 pandemic. While it's accepted that a remote or hybrid model grants workers clear benefits in flexibility, work-life balance, are productivity there are still perceived advantages of working onsite.
Now with vaccinations rolled out worldwide, many employers have reopened their offices or worksites, and more employees are being told that they must go back in. This puts both employers and employees at a crossroads and forcing employers to weigh the pros and cons firming up their onsite vs. remote work strategy. In reality, each working model has its own merits and disadvantages.
Perceived Benefits of Onsite Working
Collaboration and Innovation
It can't be argued that onsite working encourages collaboration. Employees can share ideas while in the office. Sharing ideas and collaboration enables employees to solve problems and share in decision making. Collaboration may also encourage innovation when ideas are shared among workers.
Social Connections
Onsite working boosts social connections. It can be assumed that employees working in close proximity to one another are more apt to engage in conversations that lead to meaningful connections. These connections foster better working relationships and a rich social experience.
Positive Work Culture
Employee relations play a significant role in shaping the culture of an organization. Therefore, having employees who relate to others well will result in a positive work environment that translates into better productivity. On the other hand, workers who have been operating remotely have been reporting experiencing better relationships with colleagues due to the reduction of office politics.
Improved Work/Life Balance
Onsite working also enhances work/life balance. In this model, workers can separate their professional lives from their personal lives, allowing for more boundaries when it comes to time allocated for work and that for family, friends, and personal activities.
Promotion and Development Opportunities
Promotion and development opportunities, such as workplace training, are easily accessible to employees in an onsite work setting. All-around performance evaluations are also more likely to occur in an onsite work setting. Remote working eliminates supervision through observation, which may make career progression more difficult and praise and recognition harder to attain.
How HCM Technology Delivers Insights to Develop Remote Work Strategies
Remote work is a trend that has been gaining steam for decades — the pandemic simply provided a catalyst for many organizations to experiment with remote work even for positions not traditionally thought of as being done outside of the office. This presented employers with an opportunity to ascertain some key information about their roles and people:
Is this position able to be performed in a remote setting?
Do remote individuals have the discipline needed to keep their productivity at or above onsite levels?
Do I have an accurate way in place of tracking performance and productivity for remote positions/workers?
A number of studies show that companies did learn that many roles can be done remotely, including a renowned HR Executive study1, which concluded that 80% of employers surveyed planned to offer flexible work options at scale.
But even when a job can be done remotely, individual factors will influence an employee's ability to succeed when working from home. Leadership and managers need consistent systems and tools to monitor individual performance and productivity to make sure the employees in those roles have the discipline to succeed and contribute to the goals of the organization. As the chart below indicates, the outcome of remote or hybrid working options should result in a dual benefit of productivity and employee well-being.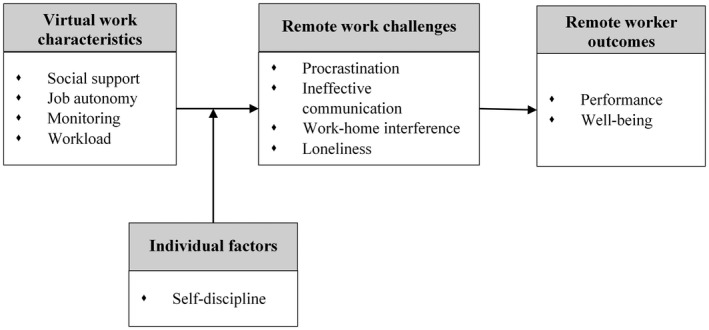 Figure 1: Remote Working Context
Source: Achieving effective remote working during the COVID‐19 pandemic: A work design perspective.
HCM technology can overcome the perceived benefits of onsite vs. remote work
Employers that are more open to flexible work strategies need to rethink their legacy HR systems NOW to adapt to new workforce trends and overcome perceived benefits of working in the office.
Flexibility and Work Autonomy vs. Connection and Culture
A work-from-home model promotes trust and empowerment as employees control their work schedule. A study from L. Vyas and N. Butakheio showed that employees with job autonomy benefited from increased productivity and reduced rates of burnout. But with everyone remote, company culture and engagement can suffer and become a casualty. But with modern HCM solutions offering a solution that rethinks the traditional Intranet, employers can integrate customized experiences for employees within the workforce management framework that they are already using every day.
OnePoint released Company Hub in April 2021, which merges the idea of the company Intranet into our HCM platform. With this feature, HR administrators can create and launch "HUBs", eliminating the need for employees to need a separate login to access the company Intranet. The HUBs have with flexible design and multimedia options, and profiles rules can be used to set permission for different HUBs. For example, a main corporate HUB can be created that is available globally; and a second HUB could be set up for the HR department or a new employee orientation that can be built and seen only by new hires for onboarding.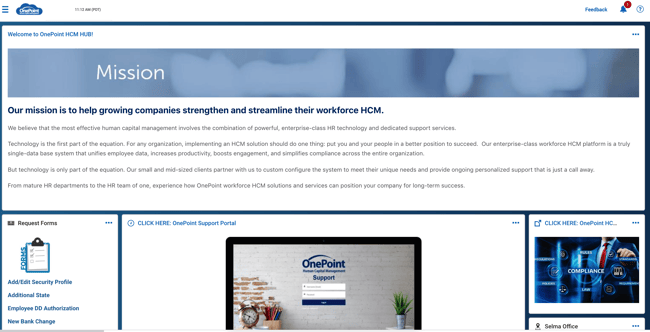 HCM Technology Provides Work-Life Balance to Avoid Wage and Hour Headaches
The truth is that work-life balance is just as beneficial for employers as it is for employees, but where HCM can help is for hourly employees working remotely. Sending salaried employees to work from home may lead to blurred lines between home life and work, but there is lower risk of running afoul of employment laws.
However, sending hourly workers home to work introduces a whole slew of challenges. Companies need a centralized timekeeping system where managers can make sure that employees are not blurring the lines which can quickly lead to wage and hour issues or disputes. As a result, this requires the configuring of rules and policies that employees need to follow as well manager visibility and alerts to proactively manage incidences of exceptions and overtime. HCM technology provides a wide range of real-time workforce reports that can be put into dashboards for managers to see missed breaks, late punches, or notifications when employee hours are approaching overtime thresholds as they are happening, not a week after the fact. In fact, HCM solutions provide the flexibility to enable remote work, as well as maintain a work-life balance while managing your risk of wage and hour violations.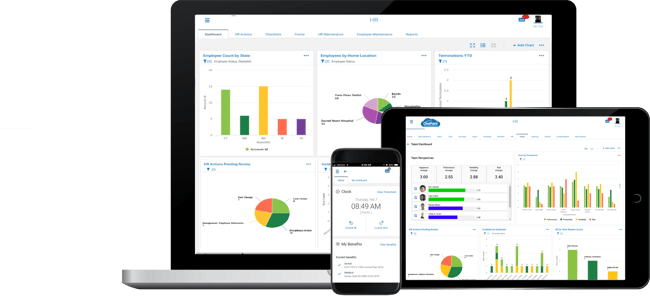 How HCM Technology Streamlines Performance
Employee performance and training should not be better or worse if an employee is in or outside of the office; it just requires a different approach. In the R75 software release gives managers and employees the ability to set both individual and team goals to track and measure performance-to-goal as the year progresses, and new enhancements in the performance management system allow for goal to be set as public or private. For example, if a goal is set to "public" mode, the system uses the organizational chart to link the associated goals together so they can be seen as impacting each other. You can also align goals to provide visibility to team efforts toward several common goals aligned with a manager's goals. And peer review and feedback is even built in to the system to encourage engagement and collaboration between team members.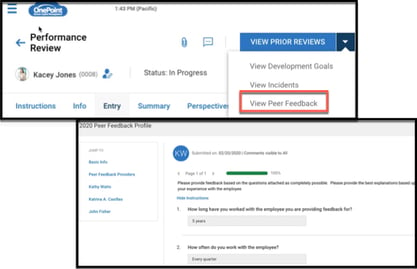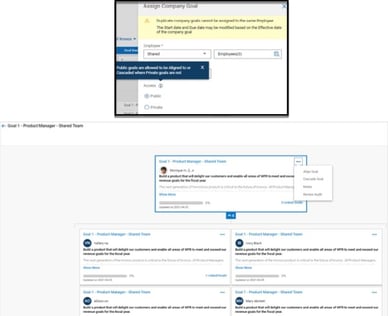 HCM Technology Centralizes Training/Learning
Modern and robust HCM solutions should also offer integrated LMS systems and training programs for employees, no matter where they are working. E-learning and online certification programs have matured and more sophisticated HCM solutions can bring that content and experience into the centralized platform. There are several administrative efficiencies by unifying training with the HCM. For example, you can configure training with employee profiles to auto-assign content for compliance (i.e. mandated harassment training) or other developments; you can match training and development to an individual's goals and performance; and managers and administrators can track progression of training and capture completion dates and certifications. As a bonus, OnePoint's LMS solution even provides a subscription option for training content and is adaptable enough to load other third-party licensed content or company-generated training into the system.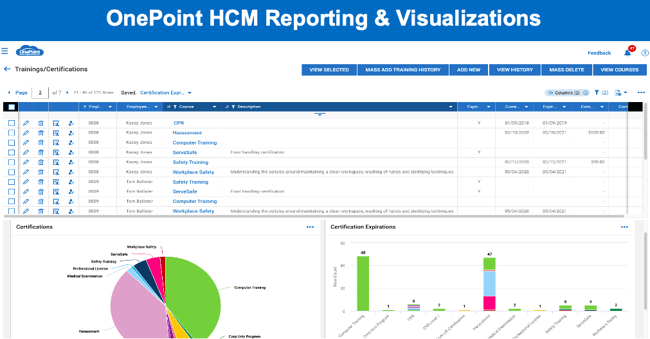 Remote Work Strategies Reduce Overhead and Operational Costs
Replacing legacy technology with a modern HCM platform opens the possibility to adapt to new trends like remote work and generate efficiencies and savings throughout an organization. Employers build remote work options into their long-term workforce strategies, which has the potential to create cost savings that can pay for the technology investment. It's a fact that remote working reduces operational costs for employers because employers can cut down on leased office space, enjoy lower electricity bills and other utilities, buy less office supplies, and more. This is why companies that embrace remote work can create a competitive advantage during the labor crisis, such as being able to recruit nationwide or globally for talent and even interview virtually or without having to fly someone in or pay for accommodations.
When it comes down to it, the general consensus and many studies show that hybrid and remote working increase productivity, efficiency, morale, and job loyalty. New HCM Technology is changing the perceived advantages of onsite vs. remote work. If an employee can be responsible and productive team member while working remotely, HCM technology can support a consistent and streamlined framework to support employee tasks, development and communications no matter where they are working.
Sources:
1 https://www.adpri.org/wp-content/uploads/2021/08/09091517/ADPRI_1.pdf
Vyas, L., & Butakhieo, N. (2021). The impact of working from home during COVID-19 on work and life domains: an exploratory study on Hong Kong. Policy Design and Practice, 4(1), 59-76. https://www.tandfonline.com/doi/full/10.1080/25741292.2020.1863560
Wang, B., Liu, Y., Qian, J., & Parker, S. K. (2021). Achieving effective remote working during the COVID‐19 pandemic: A work design perspective. Applied psychology, 70(1), 16-59. https://www.ncbi.nlm.nih.gov/pmc/articles/PMC7675760/