Launching and maintaining a company intranet is huge undertaking, and companies that invest in an intranet do so with good intentions. They want to boost communication and productivity for their employees. HR Leaders see the value in the company intranet. The obvious HR use cases include creating one place for HR documents, forms and and resources. It can also be a place to create employee communities and showcase culture.
Yet research shows as many as 90% of company intranets fail in 3 years, and the reason comes down to four main reasons.
Lack of ownership
Hard to keep updated
Outdated information
Disconnected from core workplace tools
Not mobile ready


Basically intranets fail when employees are forced to login to yet another platform, experience difficult navigation and don't find relevant content. They will leave, and they wont be back. But what if your HCM solution gave you the tools to create one, or many, intranet style information centers for employees?
Reinvent the Company Intranet in OnePoint Company Hub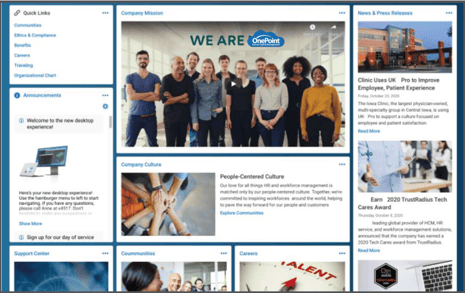 Company Hub is like an intranet, but it lives in OnePoint Platform. By locating these Hubs within the HCM with flexible design and multimedia options, Company Hub will allow you to launch and maintain an intranet that solves the common adoption issues.
Ownership and governance
Traditionally the IT department owns the company intranet project, but IT isn't the content team, just the architect. Which ultimately causes confusion in governance and ownership. If content and updates are a cumbersome IT process, maintenance and relevance quickly become and issues.
With Company Hub you can eliminate that extra steps by locating the company intranet inside the HCM platform. Administrators have ownership of the tool, but can delegate responsibility to managers and users. This creates hierarchy and ownership without having to use a separate tool to organize information.
Easy to use and maintain
Company Hub lives inside of the HCM platform so HR forms, resources and checklists, are already in the HCM. This eliminates redundancy of keeping information in the HRIS but also post it to the company intranet.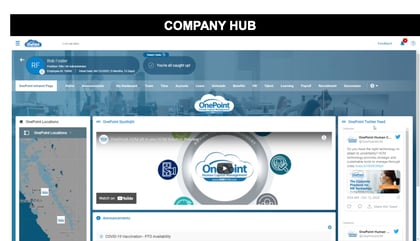 Pre-formatted templates make it easy to create layouts and organize information without needing IT or development support. Create one or many HUBs to group and organize content that makes it easy for employees to find information they want to see.
Add company announcements, quick links, YouTube videos, careers postings, news and press feeds, social media feeds, a map of office locations, training calendars and more. But because Company Hub is inside your HCM, it opens up easy access to important HR documents, links to training, important employee announcements and checklists. Your company hub blends both the fun stuff and culture with mandatory tasks with the convenience to navigate straight to important "to-do" items.
For example: Use the announcements area to let staff know that open enrollment is starting. Then provide the link that will take the employee directly to the enrollment start screen.
Deliver employees relevant and timely information
A big challenge to intranet adoption rates is that the content becomes stale. Company Hub is a dashboard layout option in OnePoint that hosts content to address the specific needs of the company and communicate a wide range of relevant information.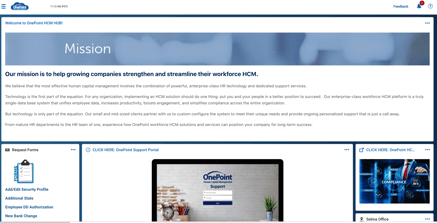 Customize multiple tabs and add up to 20 information widgets per tab. HUBs can be customized to speak to different employee groups. Use profile rules to organize groups of employees, allowing you to tailor experiences for the organization as a whole, for your internal teams and departments, or even down to the individual employee level. What's more, you can have multiple Hubs, one for each of those levels.
The content inside each widget is also configurable and can be updated by those with the appropriate access. Does your Sales Leader have a video she wants to share? Perhaps the marketing team wants to solicit some feedback on a new product sheet design? Do you have an employee that serves as a community outreach liason? Those employees can be granted access to a Hub allowing for a controlled (but decentralized) content ownership that can keep the information relevant and current.
Company Intranet Examples:
New Employee Orientation Hub - Deliver an engaging new employee portal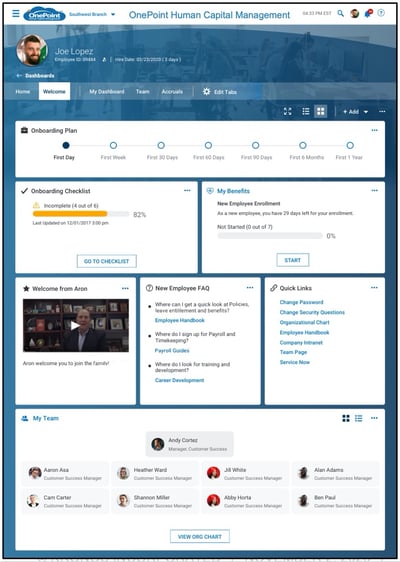 Department HUB - Give departments unique Hub they can use and update and deliver only to employees in that department.
Culture HUB - put together a showcase of important company initiatives and build internal communication and connect with key company events and more.
Communities HUB - Do you encourage employees to find volunteer opportunities in the community? Does your organization have a charity or an annual campaign you support? Create a hub that showcases the company's and individual civic and charitable efforts in the community.
Many companies are already distributing this type of information for employees and customers via social media. Facebook/Instagram for fun and community, LinkedIn/Twitter for more corporate happenings. Company Hub can be a social media feed aggregator for your employees. Keep the processes and people responsible for publishing social content exactly the same, but now pull that in those feeds so employees can engage with the social media without having to access social media sites.
Make the company intranet part of the daily routine
Many company intranets ultimately fail because it is yet another disconnected system. Administrators have to update another Database. Employees have to remember another login. That is a lot of work and as soon as they have a bad experience they won't be back. Company Hub solves the accessibility issue because the company Intranet is now inside of the HCM platform that every employee has access to and uses frequently if not everyday.
Employees will see the HUB options when they access employee self-service. Which brings us to another factor, MOBILE. OnePoint HCM's platform is fully responsive. This means that the self-service experience will be the same on any device. This includes Company HUB. Making company information easy to access in the ways your employees want to view it will increase adoption.
Make the company intranet a positive investment
The Company Hub is just another benefit of an all-in-one HCM solution. Employee communication and engagement is challenging, but is compounded when employees have to access many different systems to get information. Company Hub is an opportunity to build an easy to use and maintain a company intranet inside the HCM environment. Give employees a centralized information, with relevant content, a familiar user interface that employees already use and access frequently, if not everyday.
But the seamless HCM architecture can let you go further. Use system alerts and notifications to remind employees of new content or new initiatives. Put links into the HUB where they can get that information, drop in a checklist with a brief orientation video. Create new themes for holidays and important anniversaries or milestones. Company Hub was released in R74 (2021) and is available for clients.
Check out the software release highlight article to learn more.