The world as we once knew it has changed due to COVID-19—our collective awareness has reached heightened levels since the onset of this global pandemic. As we continue to flatten the curve and begin to reopen employers need to understand that attitudes, behaviors and rules will be different moving forward. New policies and specific operational plans need to be implemented to protect our health, our families' safety, and our livelihoods.
As the federal and state governments in the U.S. have announced their plans for reopening (some states like Georgia already have), it is now the time for companies to create and implement policies to ensure employee safety and reduce the risk of transmission in the office environment. OnePoint, is already addressing this daunting task with HR technologies that can help track wellness and assure employees, who may have reservations about returning, that their well-being is being considered and looked after.
Dynamic Attestation Surveys Play a Significant Role in a Post-COIVD Workplace
A unique way to track employees' wellness as they return to the workplace is to incorporate work attestation surveys into your HR department's suite of offerings. Very few HR tech vendors offer this specific feature or allow it to be customizable, so adopting it can arm your company with an added level of health documentation.
OnePoint's work attestation surveys are like an exit surveys As employees re-enter the workplace in a post-COVID-19 era, OnePoint attestation surveys can be designed with questions that record employee responses regarding illness or symptoms. The questionnaires or surveys in OnePoint HCM are unique because they are customizable, making them a powerful way to address behaviors that could impact workplace health.
Here are some examples of work attestation questions you could set up for employee responses
Have you traveled anywhere in the past 14 days?
Have you experienced any flulike symptoms the past 14 days?
Have you spent time in a group larger than 10 people in the last 14 days?
Confirm you completed your office health screen today?
Did you disinfect your workstation?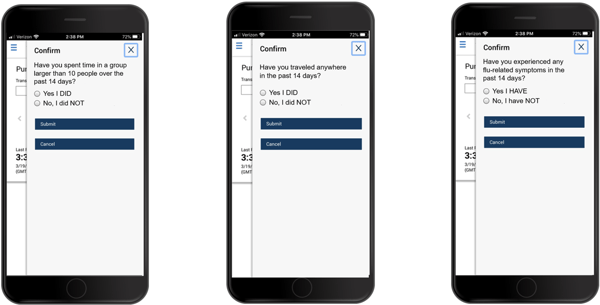 Attestation responses can be prompted on mobile punch out or programmed into time clocks. COVID questions can be combined with other wage and hour questions like confirmation they took meal and rest breaks, their hours they worked or if any injuries were incurred, during their shift. The customizable questionnaires give great flexibility to capture information on activity and behaviors important for workplace wellness, safety and general compliance.
Not only do work attestation surveys provide HR managers with confirmation that workers are being transparent, honest and accountable for their comings and goings, but they can simplify the collection of data to maintain compliance for state reopening guidelines like California.
Easily Report Employee Attestation Responses
Attestation reporting organizes employee survey response data about activities so that managers can monitor trends, demonstrate compliance to rules and policies. If reporting shows that most of your workforce has not experienced flu-like symptoms in the past 14 days, the response and action needed to maintain a healthy environment will be much different than the opposite trend. Moreover, attestation response reporting provide easy and seamless proof of compliance should governments enact more stringent and required compliance measures into place.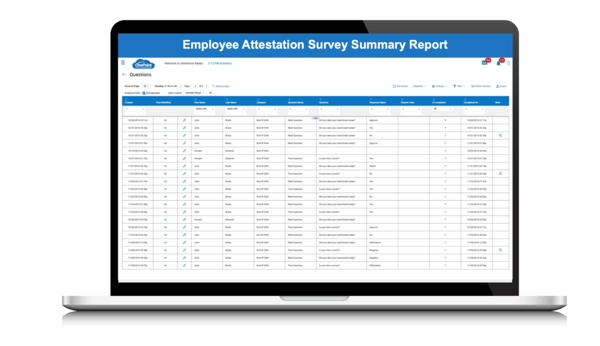 OnePoint's HCM technology is dynamic, cloud-based software that is built on a single database that shares data across all of your applications. By configuring to your company's unique workflow and reducing the amount of time that your HR team spends performing time-consuming tasks, the automated time and labor management solution can integrate with the employee attestation tool and your company's existing data collection source. Thus, it seamlessly gives managers the ability to improve employee monitoring to reduce compliance risk for state and local labor laws, organization-specific policies, or even collective bargaining agreements for union workers.