February's HCM software release, R73, is out and we are positive that our customers will fall in with at least one of several great updates to the OnePoint platform. Take a quick tour of nine exciting enhancements designed to streamline the day-to-day tasks and responsibilities! There is something for everyone.
1. Download Documentation Page Converted to a Report Page
In the new year many companies audit and update documentation like handbooks and policies. However the Download Documentation page was a little confusing to navigate. In this release the Download Documentation page is being converted from a table layout to a report page. The new report style page will make it easier to search for documents using standard reporting features and streamline document organization.
Where it is: cross-product
Who will use it: admins
2. No More Scrolling — Customize Timesheet Columns Your Way
As noted in our R73 timesheet enhancements article the new time sheet experience allows user to customize the order of the data columns in the Time Entry Collected Data Section. Users can put their most frequently used fields at the top of the timesheet, making it easier to find and log information with less scrolling. This enhancement is ready for use on both on her desktop and mobile device.
Where it is: TLM
Who will use it: employees
3. Attestation Updates — OneTouch Punches
As more employees are coming back to the workplace, more organizations are looking for ways to proactively track and log employee health information to reduce the risk of disease transmission in the workplace. OnePoint Attestation Survey are one way to gather health information (with appropriate legal review) without having to buy a third party app. Attestation enhancements in R73 now make attestation trigger a restricted punch on OneTouch clocks. For example if an employee punches in using the OneTouch clock and indicate that "YES" they have traveled out of the state within the past 14 days, they will not be allowed to punch in.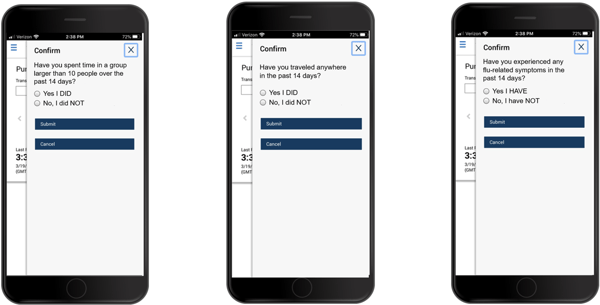 Where it is: TLM
Who will use it: admins
4. Add Documents to Request and Modify Time Off
This enhancement gives employees the ability to upload additional documentation to support a time off request or add additional information to modify a pending request.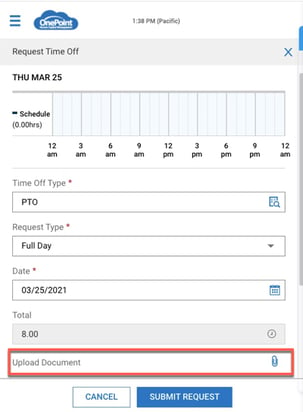 Where it is: TLM
Who will use it: employees
5. Personalize Content in New Hire Checklists
Effective onboarding is a critical process for every organization, and it's no secret that checklists can streamline the process. But HR professionals know that new hire checklists are not always one size fits all. R73 makes it possible to personalize the onboarding experience and incorporate specific videos, images, links, etc. This creates an engaging, unique, and enhanced onboarding experience for each new hire.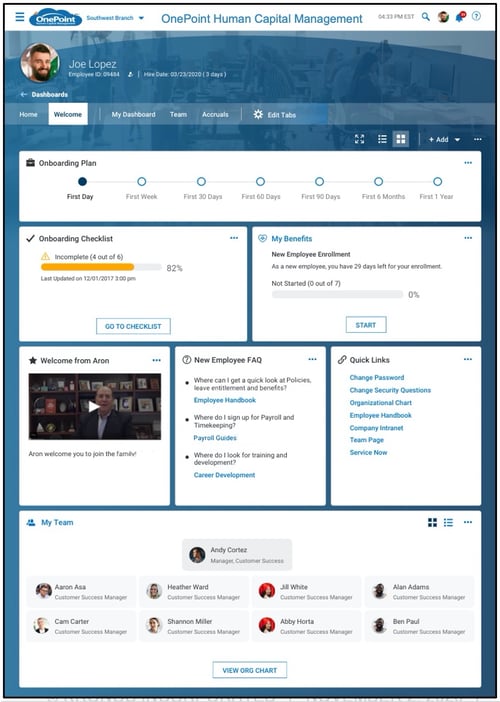 Where it is: HR
Who will use it: admins
6. Make Your Cell Phone Your Primary Phone
Many people are deciding to ditch their home phone land lines to save some money. However previously in OnePoint a cell phone number could not be the primary phone number. With this enhancement, employees who don't have a home phone or want to use a mobile phone number can now make it the default, primary phone on their employee record. This is an exciting enhancement that many have wanted in OnePoint
Where it is: HR
Who will use it: admins and employees
7. Performance Management — Peer Feedback
There have been several ongoing enhancements to the performance management system over the last year, even with her growing team. During this release, we are excited to introduce peer feedback. Managers can solicit peer feedback to get a more well-rounded view of performance. Employees can anonymously see what feedback they were given and determine whether or not the peer feedback is input or part of the review. Either way peer feedback as part of the performance evaluation process allows managers to have another layer of input and be able to provide valuable feedback to employees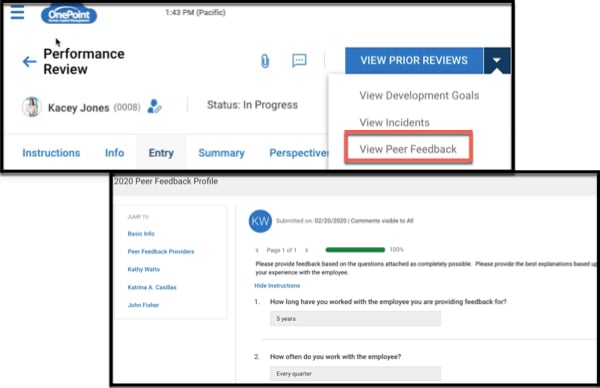 Where it is: HR
Who will use it: admins and employees
8. Personal Rate Table Reason Codes Rate Tables
(Added Reason Code to Rate Table Import Table)
For organizations where employee can have several different roles can lead to have multiple pay rates based on what day they are working in a particular role. Previously payroll administrators had to manually enter reason codes for each pay rate change which was time consuming and tedious. With this latest enhancement, a column has been added with an import table to eliminate the need to insert reasons why pay rates were changed manually. Not only does this save time and provide greater reporting capabilities, but it also provides visibility to the changes that were made.
Where it is: TLM
Who will use it: admins
9. Points — Added Points to Category Filter to "Create Custom Form" Rule
For companies that use attendance points this new rule configuration will be a huge timesaver. Previously when an employee reached the maximum points threshold, there was no custom form that would automatically be triggered. Forms had to be assigned to the employee manually. So, if someone had reached the maximum number of points regarding attendance, the administrator had to send the response manually. In R73 these custom forms can be created automatically. Now when someone reaches the maximum number of points (whether it be based on safety, attendance, time off, etc.), the custom form is automatically generated and sent to the employee.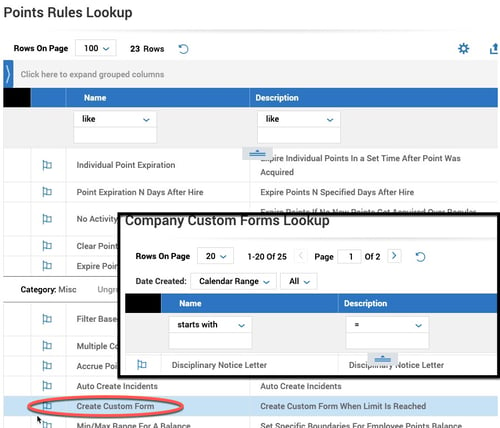 Where it is: TLM
Who will use it: admins