OnePoint software release R76 (August 2021) has some great enhancements that simplify dashboard management and streamline processes for administrators and employees. As the new user experience matures, we continue to find ways to reduce the number of steps and screens needed to complete routine tasks. We also are rolling out easier ways to configure and customize dashboards, making it easier for clients to make important data and information available to employees when they need it.
1. Badge ID for Punch on Mobile Experience
To accommodate social distancing and create a contactless environment, many organizations have implemented alternative punch-in/out methods like using HCMToGo the mobile app. Since the mobile experience is new to many employees, who were previously used to punching at a time clock, system logins have been challenging and password resets and account lockouts have been a pain.
This latest enhancement lets clients configure the mobile punch for employees to use a badge number instead, which is much easier for employees to remember. This new configuration also has an option to suspend password when using the Badge ID identifier. In the short term, this helps roll out contactless punching process efficiently without worrying about resetting passwords due to lock outs.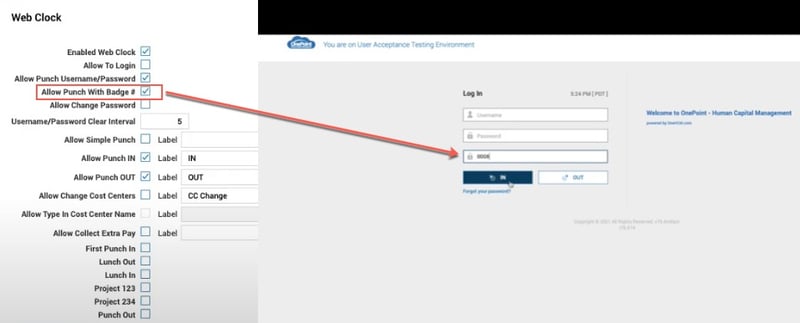 Who will use it? Employees
Where to find it? TLM Release Notes
2. Attestation for Salaried Employees
One important feature release of 2020 was the ability to configure the attestation tool kit to capture health screening information from employees. However this attestation feature was only available for employees that punched in because questionnaires were triggered by a punch. In this release, attestation questionnaires can be initiated with or without the punch-in process. Now your salaried employees can access attestation through a custom button on the timesheet. They can complete questions like health conditions or equipment checks without the need for a punch to trigger the workflow!
Who will use it? Admins and Managers, Employees
Where to find it? TLM Release Notes
3. Employee PTO Request Directly from the Timesheet
Requesting PTO is a routine self-service process, but the PTO process previously required navigating to a different screen to submit requests. In R76 the PTO request can now be initiated from the timesheet. The time-off request window can be opened using the ellipsis while editing the time sheet. You don't have to go back to the main screen anymore or move around to different screens. The full list of time off categories are available just like you were in the PTO screen. The enhancement streamlines this common self-service transaction and reduces the steps for employees to request PTO.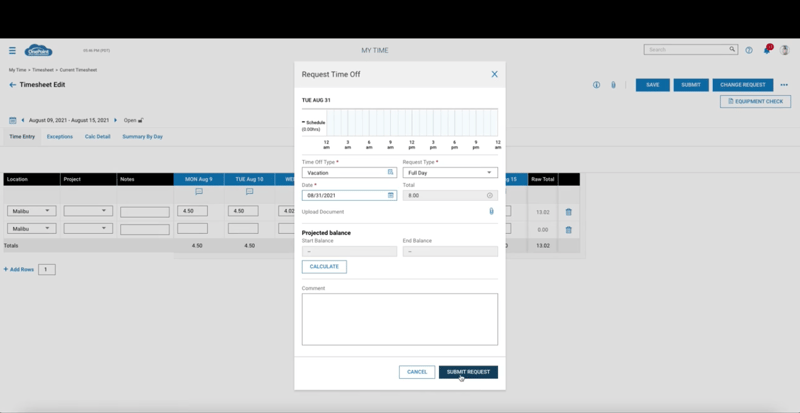 Who will use it? Admins and Managers, Employees
Where to find it? TLM Release Notes
4. Export and Print Org Charts
The dynamic Org Chart has been part of the OnePoint platform since the platform was rolled out, but now HR has the ability to export the org chart. This enhancement makes it easier for their HR team to look at the company's structure, view the employee structure under specific managers, view open positions, see potential career paths, etc. Then the system can generate a PDF that you can export or print to review in meetings.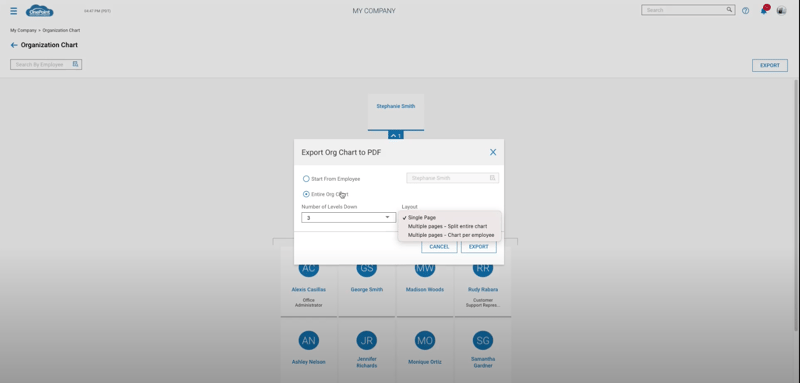 Who will use it? Managers and HR
Where to find it? HR Release Notes
5. Offer Letters - Custom Personalization Tags
Clients have been really pleased with the efficiency of the new recruitment workspace that debuted at the beginning of the year. In particular the release of offer letter templates and personalization tags were great, but had limitations because there wasn't a way to create custom fields. Now this functionality is being introduced in Release 76. The new enhancement lets recruiters create custom personalization tags and add them to offer letters templates.
For example, let's say you were hiring for one position that had three shifts. As you hire candidates, you want to indicate which shift each candidate is being hired for. Before administrators would have to customize each letter. Now with custom personalization tags administrators can create properties that are available to personalize offer letter templates to add custom information you need on it without extra steps. This will add additional efficiency and speed to the recruiting process and make life easier for Administrators/Hiring managers.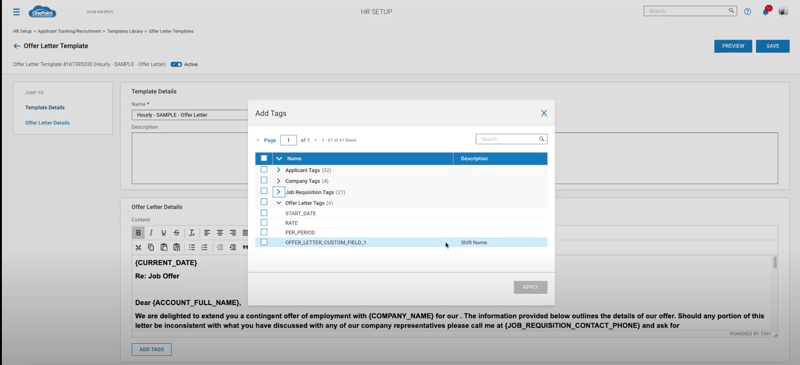 Who will use it? Recruiters, Managers and HR
Where to find it? HR Release Notes
6. Pre-configured Managers Dashboard Layout
The new user experience is really powerful because of the limitless ways to configure dashboards so data is available to Administrators, end users, managers, or senior leaders when they need it. But while making dashboards and data visualizations is easier in the new user experience, feedback received indicated that creating layouts from scratch is difficult and time consuming. So in this release we built a preconfigured layout template for the Manager Dashboard.
Navigate to the dashboard tab layout, and in the custom tab there is a manager template. Once this is selected, a layout with 9 of the most popular dashboards elements will be available. This gives clients a great starting point and saves a bunch of time. After it is loaded choose to add, delete or customize the individual report views most relevant to your business without having to start from a blank screen.

Who will use it? Managers and HR
Where to find it? HR Release Notes
7. Company HUB - Social Media Widget
We have had excellent client response since the release of the Company HUB dashboard. As a reminder, the Company HUB is a customized dashboard where you can post and organize all kinds of content like company announcements, YouTube videos, careers postings, news and press feeds, a map of office locations, training calendars and more. The social media enhancement makes it easier to add your company social media feed to the Company Hub dashboard layout profile. HR administrators can simply go into edit mode and see a full picklist of social media channels and an easy process to add and embed the code for these feeds. No more copy and pasting HTML code.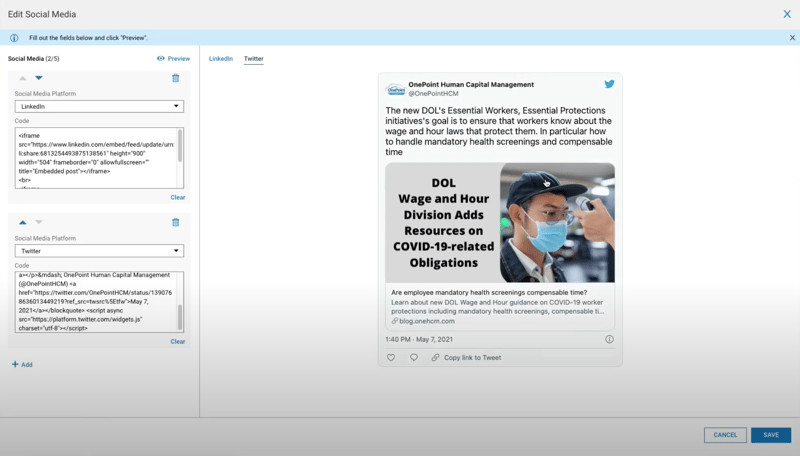 Appendix
For 24/7 access to release notes and user guides for the classic user experience, log in to your account and go to Our Company > Download Documents > Service Provider Documents
For 24/7 access to release notes and user guides, log in to your customer portal